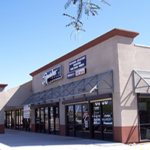 Two NNN investment sales totaling $5.09 million took place recently in Northwest and Northeast Tucson submarkets:
Carmack Center, LLC of Escondido, CA (Michael Nicholson, manager) purchased the BRAKEmax / Merles Auto Supply joint building at 6550 & 6560 N. Thornydale Road in Tucson from Encino Investments, LLC (Albert Davidoo, manager) for $3,475 million ($261 PSF).
The 13,324-square-foot property is located on 1.44 acres in northwest Tucson and was built in 2001.
Aaron LaPrise, Retail Specialist with Cushman & Wakefield | PICOR, represented the seller and Greg Furrier, Retail Specialist, with Cushman & Wakefield | PICOR, represented the buyer in this transaction.
For more information, LaPrise can be contacted at 520.546.2770 and Furrier should be reached at 520.546.2735.
To learn more see RED Comp #3605.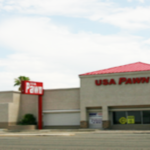 In a second transaction, USA Pawn & Jewelry at 5000 E Speedway Blvd in Tucson sold for $1.615 million ($157 PSF) by 1403 East 2nd , LLC of Durango,CO that purchased the property in 2013 for $1.37 million.
The 10,291-square-foot building on a .76 acre lot built in 1976 is located in the northeast submarket of Tucson.
EZCORP, Inc. (NASDAQ: EZPW), currently doing business as USA Pawn & Jewelry in Arizona is a market leader in specialty consumer financing, with approximately 850 locations throughout the United States, over 180 locations in Mexico, and nearly 70 locations in Canada. Headquartered in Austin, Texas, the company employs more than 6,000 employees worldwide.
Property has operated as a successful pawn shop for 17 years, and a few years ago underwent an approximately $100,000 remodel, including increasing the building elevation height to approximately 25 feet, as well as other visual enhancements to the property. This central Tucson infill location is surrounded by high density population with excellent exposure on one of Tucson's busiest arterial roads.
Terry Dahlstrom with Volk Company in Tucson handled the transaction and can be reached at 520.326.3200 ext. 105.
To learn more, see RED Comp #3618.