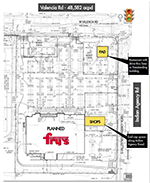 Two pads sold at the Fry's center under construction at Valencia and Valley Indian Agency Road in Tucson for an aggregate sum of $987,363 ($5.63 PSF).
The hard corner pad located at the southwest corner of Valencia and Valley Indian Agency Road is 71,025-square-feet and was purchased by Steamroller Pad LLC (Rick Volk, Manager) for $544,104 ($7.66 PSF) to be a national restaurant built-to-suit.
The other, a 104,479-square-foot pad adjacent to the Fry's store under construction sold for $443,259 ($4.24 PSF) and will be used for 7,800-square-feet of inline shop space. The inline space is over 50% pre-leased to Nationwide Vision, Great Clips and Lee Spa Nails, with 900 – 3,600-square-feet available for lease.
The end cap is to include a 600-square-foot patio ideal for a restaurant tenant.
The shop space has broken ground and is scheduled to open in early November.
The seller of both properties was Smith's Food & Drug Centers, Inc. of Tolleson, Arizona that was self-represented in the transactions. Brenna Lacey of Volk Company in Tucson represented the buyer, Steamroller LLC.
Brenna Lacey and Kevin Volk are the leasing contacts for the buyer.
For more information, Lacey and Volk should be reached at 520.326.3200.