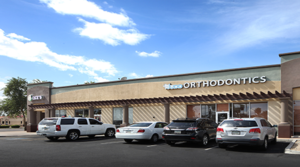 Phoenix, Arizona – CBRE arranged the $1.5 million sale of a two-tenant retail property located near Gilbert Road and Southern Avenue in Mesa, Ariz. The buyer, a private California investor, acquired the property from SimonCRE Highlands IV, LLC, a Scottsdale-based commercial real estate developer.
CBRE's Steve Julius and Jesse Goldsmith represented the seller in the transaction.
Located at 1942 E. Southern Ave., the 5,658-square-foot retail building is fully leased by two long-term tenants: Ike's Sandwiches and Judd Orthodontics. The property is situated near a busy intersection with immediate access to numerous retailers including a new Black Rock Coffee Bar, Speedy Cash and Chevron gas station. The U.S 60 freeway is less than a mile away.
In CBRE's recent North America Cap Rate Survey, retail cap rates for both stabilized and value-add properties increased for all retail segments in the second half of 2018. Cap rates for both power and neighborhood/community center stabilized properties are expected to remain unchanged or increase slightly in the first half of 2019.