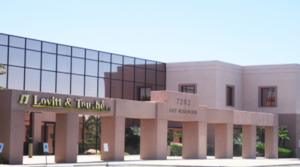 TUCSON, ARIZONA – An affiliate of EJC Holdings LLC (Eddie Chernecki, manager), CB110 and Paul Antonucci, Ltd., purchased the two-story office building at 7202 E Rosewood Street in Tucson for $3.2 million ($65.53 PSF).
The building was fully occupied by two tenants: Lovitt & Touché and Arizona Health Care Cost Containment System (AHCCCS), both on short term leases. Property sold on a price per square-foot to be re-leased.
Headquartered in Arizona, Lovitt & Touché is a part of the Marsh McLennan Agency serving Arizona and the Western region. A subsidiary of Marsh LLC, a leading global insurance broker and risk management advisor.  AHCCCS is Arizona's Medicaid agency that offers health care programs to serve Arizona residents.
Built in 1986, the 48,830-square-foot building has 203 parking spaces; 150 surface and 53 covered spaces on 3.43 acres at Gateway Center located southeast of Speedway and Kolb.
Bryce Horner with CBRE Tucson represented the seller, DTA Ventures and Jon O'Shea with Vast Commercial Real Estate Solutions represented the investors.
For additional information, O'Shea should be reached at 520.624.9400 and Horner is at 520.323.5100.
To learn more, see RED Comp #9716.