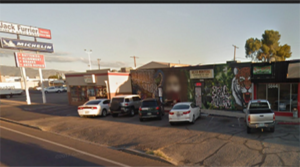 TUCSON, ARIZONA – Head Hunters Smoke Shop, LLC purchased the property located at 5830-5850 East Speedway Boulevard in Tucson, AZ for $275,000 ($20.74 PSF). The value-add property consists of an approximately 13,257-square-foot building on 34,407-square-feet of land.
Buyer was a tenant prior to sale and will continue to occupy a 4,500-square-feet space in the building. Two other tenants occupy 2,250-square-feet, Metro Tattoo and TD Show Club each in 1,125-square-feet. The remainder 6,507-square-feet with six spaces, was vacant for buyer to lease at undisclosed lease rates.
Frank Arrotta with Tucson Realty & Trust Co represented both buyer and seller, Trinum Properties, LLC.

In a separate transactions, Arotta also recently handled the sale of the former Driftwood Pub at 2001 S Craycroft Road in Tucson for $280,000 ($108 PSF).
Nick's Enterprises, LLC purchased the property consisting of a 2,604-square-foot building on 23,866-square-feet of land from Craycroft Properties, LLC.
Built in 1958 the former landmark property, Driftwood Pub and Kitchen was a well-known neighborhood pub with pool and billiard hall.  The new owner is renovating the property to use for a Filipino grocery store and restaurant, dba Sari-Sari Store.
For more information, Arrotta should be reached at 520.577.7000
To learn more, see RED Comp #5031 and #4956 and to find more properties such as these, go to the Red Listing Registry.