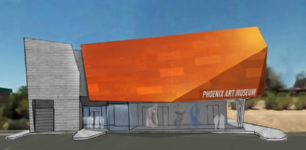 Last month, the Urban Land Institute (ULI) gave an assessment of Carefree's Village Center, saying it has potential to serve as a cultural and economic hub for the Desert Foothills area.
A $90 million mixed-use development is proposed for downtown Carefree based on ULI recommendations. Scottsdale-based Butte Development is revisiting plans for a project dubbed "Easy Street" near Cave Creek and Tom Darlington roads that would fit into the town's revitalization efforts and enhance its robust arts community.
Butte will construct Easy Street in two phases, with the first slated to break ground by year end if negotiations with the art museum and the town are successful.
Easy Street will include 80 condominiums and approximately 50,000 square feet of retail and commercial space. The developers are working closely with Phoenix Art Museum to construct a 10,000-square-foot satellite campus to anchor the retail space.
Art Museum officials are keen on the idea of a Carefree satellite.
"We are very interested in the possibility of a quality outreach program in the Northeast Valley," said Jim Ballinger, director of the museum. "If the community support is there, we will respond to that request."
Other potential tenants could be chef-driven restaurants, boutique clothing shops and additional art galleries.
"Both the Easy Street development and the Phoenix Art Museum would be welcome additions to Carefree, and help bring to life the recent Urban Land Insititute recommendations that the Carefree Village Center has enormous appeal and even greater potential," said Carefree Mayor David Schwan.