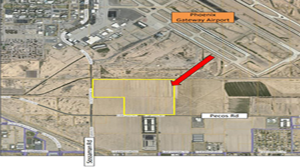 PHOENIX, ARIZONA – Phoenix-based Unbound Development set the table for a large-scale industrial development near Phoenix Mesa Gateway Airport and recently completed a transaction with Greystar, who will now finish the process. Unbound sold the 154 acres consisting of 6 different parcels in a double escrow transaction and provides Greystar, one of the largest multifamily owners and management firms in the country, with a Class A industrial development opportunity as it tries to expand its industrial portfolio.
"Since Unbound opened escrow on the 154 acres in December of 2020, the Mesa Gateway submarket has become one of the hottest industrial submarkets in the country in terms of user demand and developers trying to acquire land sites for industrial development," said Andy Ogan, Unbound CEO and Founder. "Unbound's intention was to develop the site, but unsolicited offers to buy it during the entitlement process were abundant and attractive."
Unbound worked for the past year and a half on acquiring the 154 acres located near the northeast corner of Pecos and Sossaman Roads and obtaining approval from Mesa's planning and zoning board on a development it had named Unbound Gateway. Unbound acquired 18 acres in September of 2021 and the remaining 136 acres in January of 2022 for a combined total of $27.1 million. The 154-acres were sold to Greystar for a combined price of $43.7 million.
Greystar will utilize the development team that Unbound had assembled, with Derek Builders serving as the general contractor and Deutsch Architecture Group and Hunter Engineering handling the design and civil engineering, respectively. The development will feature approximately 2.2 million square feet in three buildings, including a 1,177,561 square foot building, which will be one of the largest freestanding industrial buildings in the rapidly expanding Southeast Valley industrial market. The other two buildings will be 517,029- and 476,229-square-feet.
Due to the global supply chain issues that have arisen since the first quarter of 2021, Unbound was proactive in acquiring building materials for the development. Unbound secured building materials contracts in 2021 and is working to assign those contracts to Greystar for additional compensation,  allowing Greystar to be able to deliver the buildings in a timely manner. Greystar is aiming for work on the project to begin in April, with delivery by Q1 of 2023.
"Demand from industrial users in the Southeast Valley and particularly Mesa Gateway is robust and the size of their requirements are larger than ever before," Ogan said. "As a result, Unbound Gateway was designed to cater to industrial users 250,000 square feet and larger."