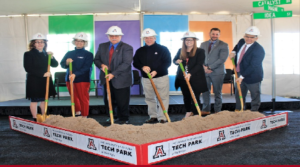 TUCSON, ARIZONA -- Tech Parks Arizona broke ground Thursday with the first multi-tenant tech building at the University of Arizona Tech Park at The Bridges with development partner The Boyer Company.
The first building will be named The Refinery and will provide 120,000-square-feet of office space for small-to-midsize tech-focused businesses and organizations.
Building the "refinery" next to the mine allows companies who locate here to mine talent directly from the University of Arizona, providing employment and internship opportunities. The University of Arizona is committed to 50% of the four-story building and it will serve as an epicenter for innovation with the entire University innovation continuum under one roof.
University of Arizona units fully scoped into this building include: Tech Launch Arizona, University of Arizona Center for Innovation and University of Arizona Applied Research Corporation.
The building is expected to be completed in the summer of 2021.