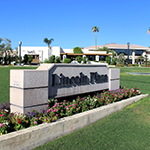 SCOTTSDALE, AZ – Lincoln Plaza Shopping Center, located on the SWC of Scottsdale Rd. and Lincoln Dr. in Scottsdale, was sold to an investment group for $25 million ($330 PSF). AJ's Fine Foods supermarket anchors this premier retail center that is poised for future redevelopment.
Lee & Associates' Fincham/Dempsey Investment Team, led by principals Pat Dempsey and Jan Fincham, facilitated the transaction on behalf of both the buyer, RN Properties South Mountain, LLC of Phoenix and the seller, Lincoln Plaza Limited Liability Co. of Scottsdale.
RN Properties purchased the property utilizing a 1031 Exchange after selling South Mountain Crossing Shopping Center in Phoenix back in June. Fincham and Dempsey represented RN Properties on that transaction as well. The sale of Lincoln Plaza completes a trifecta of deals brokered by Fincham/Dempsey of $75 million in the past 18 months at the SWC of Lincoln Dr. and Scottsdale Rd. that includes the sale of The Borgata, Lincoln Village and now Lincoln Plaza.
"The future potential for this property is very strong due it's location and appeal to tenants seeking Arizona's most affluent demographic," said Dempsey.
The 75,744-square-foot luxury shopping center includes the aforementioned AJ's Fine Foods and Scottsdale Marketplace as well as other high-end retail stores. It is surrounded by established shopping destinations, resort and entertainment venues close by.
To learn more, contact Dempsey at (602) 954.3772 and Fincham at (602) 954.3754.