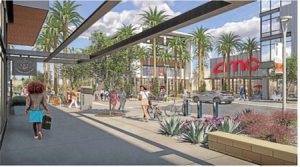 TUCSON, ARIZONA (May 15, 2023) Anyone driving by the Foothills Mall lately has noticed the mall being demolished and wondered, 'What will the future bring to the Foothills Mall?'.
Most of the mall is already gone, leaving only AMC Theatres, Applebee's, AT& T, Barnes & Noble, Bath & Body Works, Destination Tan, Kinko's / FedEx Store, GameStop, Outback Steakhouse, Pappoule's Restaurant, Sushi Garden, Uniform Destination, VN Nails and Whiskey Roads. All have stayed open for business during the demolition, and all plan to remain open during the redevelopment.
Bourn Companies announced the "radically reimagined" mall plans this week. To bring an extraordinary redevelopment project called "Uptown" to the site. The mixed-use, high-density project will be upscale, upbeat, and inviting to an urban village setting, including high-end residences and engaging public entertainment space. Similar to what's found in larger cities.
The Foothills Mall was built in 1982. Bourn Companies has owned it since 2016. The Foothills Mall Specific Plan developed at the time included four site plan concepts for redevelopment concepts.
PHASE I
The phase I initial build-out, expected to break ground later this year for a Summer 2025 delivery, will include changes off Ina Road, 315,000 square feet of new retail, and about 300 units between a boutique hotel and a mid-rise apartment building with a rooftop pool on a second floor of tenant amenities and a rooftop bar on the fifth floor of residences. Apartments will be for all ages ranging in size from studios- to three-bedroom units— and only the beginning before it becomes 1,000 residences at full build-out with the potential for age-restricted townhomes at a later stage and up to three hotels in the future with capacity for 500 hotel suites.
Bourn has high expectations for the two-million-square-foot, $500 million project when completed in phases over eight years. Pima County has already approved up to 10-story buildings on the 51-acre site. Uptown is intended to attract new retailers and residents to Tucson who may not have considered moving here before.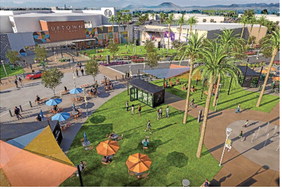 The Southside of the project is planned for public gathering space, with a splash pad and concert area, a giant outdoor screen, and a multilevel parking garage.
Intended as an epicenter for eclectic dining, Uptown will have a curated mix of comfort foods and chef-inspired cuisine to entice even the most decerning pallet.
The new entry to the theaters and the green areas will come from the east side off of La Cholla in the initial build-out.
Live music, movie nights, local bands, and rising artists will be found here any day. With plenty of shady seating areas, meeting with friends and getting caught up in the vibe will be easy.
Co-working office space will also be designed to attract and retain top-notch staff within an inspired atmosphere.
The boutique hotel will also elevate Uptown with upscale accommodations and distinctive amenities -- the kinds of personal touches that stay with you long after your stay.
With extraordinary views, Uptown promises to be all that as promised and more. People will live it up at Uptown with something for everyone.
UPTOWN TUCSON
The term "uptown" originated in New York City in the 19th century. Residents of Manhattan used the word to refer to the area north of the island. Similarly, "uptown' is used for any city's primary residential area. The ambitious Uptown project promises to be all of that. Within a 5-mile radius of Uptown, 154,000 people live with a median household income of $95,214. So the area already has relatively high density with just the right amount of upscale in the lower foothills.
McKay Stevens with Bourn Companies should be contacted at Mstevens@BournCompanies.com for leasing information.
To follow the progress of this project, go to HeadUptown.com
Phase One Initial Project Summer 2025 and Full Completion Initial Project 2028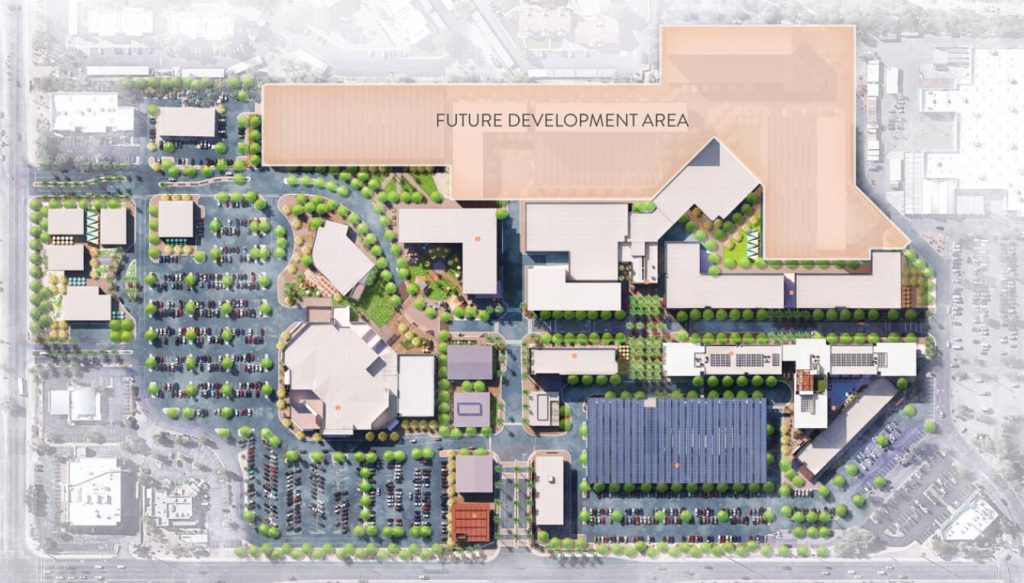 Project Completed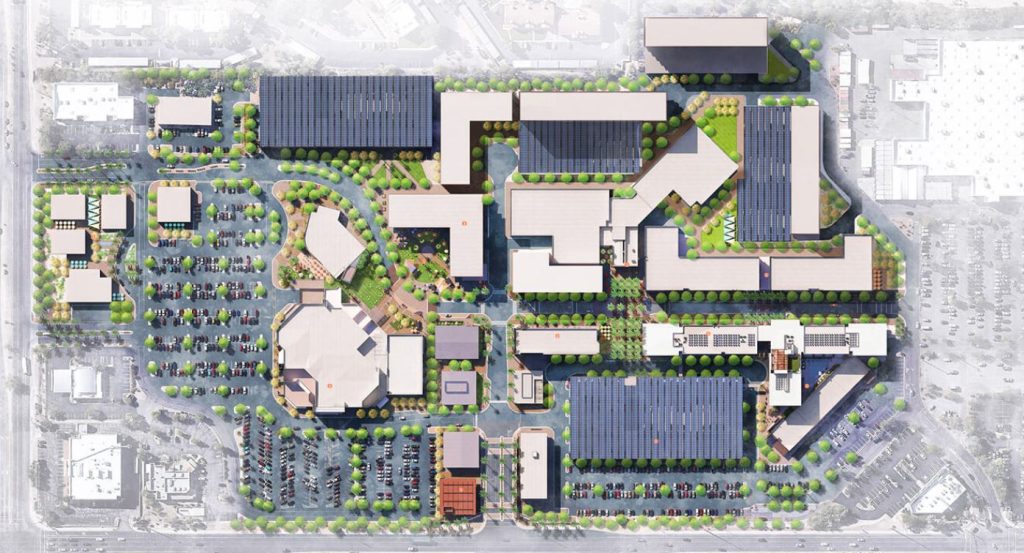 PHOTOS: Courtesy of Bourn Companies.