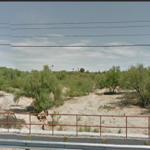 TUCSON, AZ - California- based, Sage Tucson Senior Living LLC, purchased 8.9 acres at 2365 W Orange Grove Road in Tucson for $940,000 ($2.43 PSF). The vacant land is to be used for construction of a two-story, 96,159-square-foot Assisted Living and Memory Care Center dba Sage Desert Senior Living.
The new facility will be located at the southwest corner of Orange Grove and San Joaquin, near the Northwest Medical Center campus.
This 119-bed facility will be the buyer's first in the Tucson area and sold ready to break ground, with all permits in place. Sage has other facilities in California and Nevada.
Wayne Van Hell of Jeffrey DeMure & Associates in California is the lead architect for the project.
Jason Wong, CCIM, LEED-AP, CDP, CRX of Crestline Properties in Tucson represented the seller, the Lee Family Trust of Tucson and Pat Welchert, SIOR, of Cushman & Wakefield | Picor represented the buyer in the transaction.
For more information, Wong should be reached 520.603.1191 and Welchert can be contacted at 520.546.2748. Van Heel is at 916.783.3700.
To learn more, see RED Comp #4196.