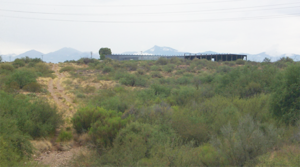 VAIL, Arizona – Chicago-based Rancho Del Lago developer, RMG Vail II LLC, has closed on approximately 400 acres of land from Pima Land, LLC of Minneapolis, MN.  Located at I-10 and US 83 in Vail, the purchase price of $475,000 or about $1,200 per acre was the auction price.
The property is comprised of two separate parcels. The larger parcel is 300 acres and has over a mile of direct frontage along west bound I-10.  To the north, another 97 acres, is accessed from Success Drive. Both parcels are zoned CI-1 in Pima County, allowing for a wide variety of commercial and industrial uses.
RMG was represented by Randy Emerson of GRE Partners, LLC of Tucson. The buyer intends to hold the land for future development. "They believe that the recent growth in the southeast submarket as evidenced by the new fulfillment center being developed for Amazon and the rapid residential and commercial growth in the Vail area are strong market indicators," said Emerson. "Also, this property is 30 miles directly north of the Rosemont mine site and could provide support services should the Rosemont Mine obtain final approvals."
There is an option under the Pima County zoning code to develop up to 50% of the site or 200 acres for residential use. The investors of RMG Vail II are looking to develop approximately 600 homes in addition to the commercial development.
The property formerly known as the "Passages" had been planned for a 6 million-square-feet of open-air mixed-use project by a developer from Minnesota, who was also a principal in the Mall of America in Bloomington, Minnesota. The project was to include industrial, office, hotel and retail use along with 2,400 residential units. The prior owner did considerable planning and engineering work in 2004-2005 before the project came to a halt when the market tanked in 2006 and the developer defaulted on $7 million in loans.
The property was put out to auction a year ago, awaiting just the right buyer to come along. Emerson had brought two earlier buyers to bid on it, but those buyers didn't close.
Sewer lines needed for development are planned to be connected from Rancho Del Lago, two miles away, at the Safeway and Walgreens that opened this year, located on the doorstep to growing Rancho Del Lago master community. Sewer construction will be pending approval of Pima County. The former developer had a sewer service agreement negotiated and in place with the County. We were told by the developer that the response from Steve Christy, Pima County District 4 Supervisor has been positive to the Vail project that has yet to be named.
Emerson will be project manager for the development and boots on the ground in Tucson. For more information Emerson should be reached at 520-429-4967.
To learn more, see RED Comp #6148.