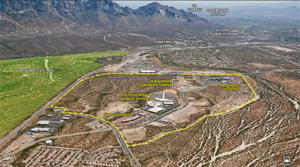 TUCSON, Arizona — Ventana Medical Systems, Inc., a member of the Roche Group, closed on 53.6 acres at Innovation Park in Oro Valley for $18 million ($336,000 per acre) according to public records. The land is adjacent to the company's current facility at 1910 E Innovation Park Drive and also in an Economic Expansion Zone (EEZ) in Oro Valley.
The purchase occurred within days of the Company's announcement of laying off 84 employees, across multiple departments, at its Oro Valley facility, reportedly due to a "challenging business environment". It does seem uncommon for a company to expand and retract at the same time, and we regret everyone involved in the transactions were unavailable for comment.
The Town of Oro Valley was able to confirm that Ventana had submitted plans for expansion to its existing 147,000-square-foot facility earlier this year, but later withdrew these expansion plans.
Ventana Medical Systems was launched in 1987 by University of Arizona professor and practicing pathologist, Dr. Thomas Grogan. It is one of the region's largest employers, with 1,286 full-time employees reported at the start of 2016.
As the leading supplier of cancer diagnostic systems to the pathology market, Ventana manufactures over 220 cancer tests with related instruments right here in southern Arizona for 80 countries, and most importantly, for 4 million people afflicted with cancer yearly around the world. Ventana products provide healthcare professionals with a total solution for all critical steps involved in the analysis of tissue biopsies. This pioneering company also offers premier workflow solutions to improve laboratory efficiency and preserve patient safety.
Parent-company Roche, based in Basel, Switzerland, has expanded its facilities and workforce at Ventana since it acquired the University of Arizona technology spinoff for $3.4 billion in 2008 when it had about 800 workers. Roche reported strong sales growth for Q3, with sales from its diagnostics division rising 7 percent to $8.3 million.
In October, Ventana Medical took possession of a new 60,000-squre-foot distribution building in Marana see RED News article Oct. 2015 "Ventana Distribution at Tangerine Commerce Park Sells for $8.6 Million".
The seller of the property was Venture West (Neil Simon, manager) the developer of Innovation Park. This master planned business park is situated on a 535-acre campus in the heart of the Tucson bioscience region, Innovation Park is genuinely unique. Located at the corner of Tangerine Road and Oracle Road, the park has easy access to Interstate 10 and to regions within Southern Arizona. 194 acres are available for development with land parcels up to 35 acres for sale. Total capacity will eventually accommodate 2.5 million square feet of commercial space.
Tim Healy and Bob Delaney with CBRE in Tucson represent Venture West at Innovation Park and were also unable to comment on the transaction, but it would appear to possibly be good news although a temporary setback for immediate growth for Ventana Medical.
To learn more, see RED Comp #4343.