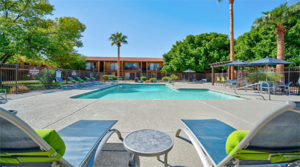 Utah Investor Plans to Complete Renovations of Community in Popular Infill Location
Phoenix, Arizona –  Bridge Investment Group of Salt Lake City has purchased the Verona Park apartment community at 1666 S. Extension Rd. in Mesa for $43,750,000 ($144,000 per unit).  The Utah investor plans to complete modernization of the 304-unit development, which is located in a popular infill area.
"This asset provided a terrific value-add opportunity for investment," says Cindy Cooke, senior executive vice president of Colliers International in Arizona.  "The property is located adjacent to the recently redeveloped Fiesta District and in an area surrounded by expanding tech companies.  Verona Park was partially updated by the seller and the buyer will benefit from completing renovations in an environment of rising rental rates."
Bridge Investment Group purchased the property from Millburn Company, also of Salt Lake City.  Cindy Cooke and Brad Cooke of Colliers International of Arizona represented Millburn Company in the transaction and Bridge Investment Group was self-represented.
Verona Park consists of 19 residential buildings totaling 248,224-square-feet.  The community was built in 1981.  The community features one and two-bedroom units averaging 817 square feet each.  Twenty-five of the units have been renovated, leaving the remaining 279 apartments with classic interiors for future upgrading.  Verona Park features a park-like setting with high quality landscaping, as well as a recently renovated clubhouse.
Verona Park is located within a submarket that experienced 9% rent growth in 2018.  The property is situated next door to the Fiesta District, where $425 million has been invested.  The community's appealing infill location features 18,000 jobs within a one-mile radius.