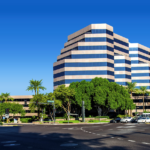 PHOENIX, AZ – ViaWest Group has recently completed almost 28,500-square-feet of new leases at the Biltmore Financial Center, a 635,000-square-foot, three-building, Class A property at the northwest corner of 24
th
Street and Camelback in Phoenix, with a 30-year history of fostering careers and businesses.
WealthPoint
,
Philadelphia Insurance, Mandel Young Law, Versant Capital Management
and
Fresenius Medical Care
have signed leases within the last number of weeks. ViaWest Group also plans to move its office to the Biltmore Financial Center this summer. The new completed leases are the beginning signs of strong demand at the Biltmore Financial Center. "The tenants, and our significant pipeline of prospective tenants, have been drawn to the Biltmore Financial Center especially considering our renovation, which advances the legacy and enhances the property's premium, modern-work environment," said Steven Schwarz, a Founding Partner of ViaWest Group. "Our hands-on management approach and vision of the property as the Valley's premier address for business helped attract each of these tenants." ViaWest Group has grown dramatically in recent years, hiring 24 employees in 2015. Now with 33 total employees, ViaWest Group will expand its main office to 5,400 square feet near the soon-to-be-developed Biltmore Financial Center's 3,500-square-foot tenant lounge, which will include a 20+ seat conference room, made-to-order food service, big screen media wall, indoor/outdoor co-working space and games. ViaWest Group is currently conducting a multi-million dollar renovation of the Biltmore Financial Center after purchasing the complex last summer. Expected to be complete in July, the renovation also includes:
Creating new speculative suites – Approximately 8 suites ranging in size from 1,600 square feet to 11,000 totaling 35,000 square feet. The suites will have modern entries with built-in reception desks, comfortable break rooms with best-of-class appliances and materials, LED direct/indirect lighting, significant interior glass, and much more
Overhauling the one-acre plaza with a new fountain, providing significant shade from new landscaping and structure and offering an assortment of outdoor seating and meeting spots
Upgrading the café with beer and wine, enhanced architecture, an inviting patio and immediate delivery to complex
Renovating the 4,400-square-foot gym with new equipment, fully-renovated locker rooms, refurbished workout space, and a new yoga/fitness room
Updating key elements of the lobby space, corridors, bathrooms, and elevator lobbies
Significantly enhanced signage and building entries throughout the complex yielding a sense of place combined with increased synergy between all the buildings and amenities
WealthPoint
expanded a previous lease and moved into a 5,000-square-foot office in the 11-story Biltmore Financial Center II (aka Northern Trust Tower, 2398 E. Camelback Road) in late January. The new office maintains WealthPoint's expansive view of 24
th
Street and Camelback Road. In April
, Philadelphia Insurance
will move into its new 4,606-square-foot office, also in the Biltmore Financial Center II, with a balcony and Camelback Corridor view.
Mandel Young Law
will move from another location on Camelback Road to its new 2,843-square-foot office with a corner view and a balcony in the 4-story Biltmore Financial Center I in May. Nearly doubling its existing lease at Biltmore Financial Center,
Versant Capital Management
will move into 6,400-square-feet in the 6-story Biltmore Financial Center III (2394 E. Camelback Road) in May.
Fresenius Medical Care
will move into a 4,301-square-foot office with excellent views and a prime entry off the elevator lobby in the Biltmore Financial Center II in May.