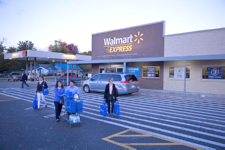 Walmart Stores has announced it is significantly accelerating its capital plan for U.S. small store format openings for the current fiscal year.
The company is expanding its original capital forecast provided last October, and now expects to add approximately 270 to 300 small stores during the fiscal year, doubling the initial forecast of 120 to150 stores. Walmart U.S. will continue its plan to open approximately 115 new Supercenters this year.
"Customers' needs and expectations are changing. They want to shop when they want and how they want, and we are transforming our business to meet their expectations," said Bill Simon, Walmart U.S. president and CEO, in a press release. "Customers appreciate the broad assortment of our supercenters for their stock-up trips as well as our small store formats for fill-in trips. By unlocking this growth opportunity and further combining our supercenters and small store formats with an unlimited selection available through ecommerce, we provide our customers with anytime, anywhere access to our brand."
The small store fleet has continued to deliver positive comp sales and traffic increases each quarter. Same-store sales for Neighborhood Market stores grew approximately 4 percent for fiscal year 2014, driven by fresh and pharmacy, according to the retailer.
"Neighborhood Market is performing comparable or favorable to leading grocers," said Simon.  "Our small store expansion, in addition to providing customers access to a wide variety of products, including fresh, pharmacy and fuel, will help us usher in the next generation of retail. This will combine thousands of points of physical access with digital retail experiences that include initiatives such as Site to Store and Pay with Cash."
Walmart currently operates 346 Neighborhood Markets and 20 Walmart Express stores. The retailer says Express units have performed well and are being expanded beyond the initial three-market pilot. As a result of its more aggressive plan, Walmart U.S. projects to end fiscal year 2015 with net retail square footage growth of approximately 21 to 23 million square feet across all formats, versus its original projection of approximately 19 to 21 million square feet. The projected capital expenditures and square footage details exclude the impact of future acquisitions.
"We have a healthy pipeline of stores in development, and we systematically work to improve our real estate and construction processes, reduce building costs and shorten the time needed to open our stores," said Simon. "In addition to providing best-in-class one-stop shopping at supercenters, we believe that accelerating our small store expansion will allow customers to choose where and when to shop based on their needs. Our small store expansion will also strengthen our market share and create greater efficiencies in our supply chain through a tethered approach that uses supercenters as a supply chain base, links our resources and provides a unique and connected customer experience."
To fund this additional growth, the company is revising its capital expenditures forecast for the Walmart U.S. segment to $6.4 to $6.9 billion, up from an initial range of $5.8 to $6.3 billion. This reflects the increased small store growth and the current pipeline of supercenters, which remain an essential part of the company's strategy. In total, across supercenter and small store formats, Walmart U.S. plans to open 385 to 415 units in fiscal 2015, adding considerably to the more than 4,200 stores currently open.