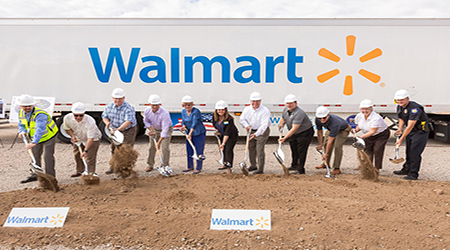 Walmart Supercenter a Linchpin of Ongoing Metrocenter Revitalization
PHOENIX, AZ – The next chapter has begun in the grand history of Metrocenter Mall.
Officials with Walmart, the City of Phoenix and Carlyle Development Group – along with area business leaders – were on hand today to conduct a ceremonial groundbreaking for a new Walmart Supercenter. The project represents the single largest capital investment in Metrocenter Mall in decades.
"Metrocenter Mall is a Phoenix icon that has served shoppers in this community for decades," said Phoenix City Councilwoman Thelda Williams. "Together, this Walmart and City Council's recent approval of a new development plan for Metrocenter symbolize re-investment and rebirth for this critical community asset."
Construction begins immediately on the approximately 148,000-square-foot store on the south side of Metrocenter Mall, near I-17 and Dunlap. The Supercenter will take shape on the site of the former Broadway building, which was recently demolished and had been vacant since 2006. The Walmart is slated to open in Spring 2017 and will employ an estimated 250 Walmart associates.
"Those of us at Walmart are excited this project will both help us serve our customers better while playing an important role in the continued revitalization in the Phoenix landmark that is Metrocenter Mall," said Paula Ginnett, a Walmart Vice President and Regional General Manager. "This site is going to be buzzing with shoppers next year, and that's a great thing – for the City of Phoenix, area businesses and Metrocenter Mall."
Metrocenter Mall opened in 1973 as the biggest shopping center in Arizona and one of the largest nationwide. Recent years saw Metrocenter challenged by the establishment of competing regional malls, changing shopping patterns and the Great Recession. Now, Metrocenter Mall owner Carlyle Development Group, the City of Phoenix and community leaders are intent on bringing new life to the area.
In June, the Phoenix City Council unanimously approved a Planned United Development (PUD) application for 130 acres in and around Metrocenter Mall. The new zoning allows for multiple new uses, including office, senior housing, multifamily housing and healthcare. It also provides for increased height and density at the infill site.
"Even in our early planning, the name 'Walmart' would come up regularly as a great fit for a mixed-use Metrocenter development," said Warren Fink, COO of Carlyle Development Group. "With our new zoning, we're now able to actively pursue that vision through the addition of elements like office, senior housing and medical uses. Walmart is a valued part of that mix, and a welcome addition to the neighborhood at large. We're very pleased to celebrate their groundbreaking."
New Supercenter, Same High-Quality Walmart Products and Services
The new Walmart Supercenter will provide shopping convenience and offer quality, value-priced general merchandise that includes apparel, electronics, toys and sporting goods. The store also will feature a full-service pharmacy and complete line of groceries, including organic selections, fresh dairy and meat departments and local favorites.
Walmart will construct the Supercenter with industry-leading technology to maximize energy efficiency, conserve water and minimize waste. Environmentally responsible features will include LED lighting, high-efficiency HVAC units and the use of drought-tolerant landscaping irrigated with a low-flow and drip watering system.
Once open, the Supercenter will employ an estimated 250 associates. A mix of full- and part-time positions will be available throughout the store, including: department managers, customer service, personnel, maintenance, sales associates, stocking positions, cashiers and more.
For more information go to Walmart online: www.corporate.walmart.com; merchandise sales: www.walmart.com