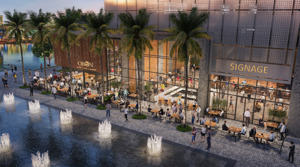 Coffee, açaí bowls, cookies and waxing join current tenant roster
PHOENIX, Arizona – Cushman & Wakefield and Fenix Development, a Los Angeles-based real estate investment and development company, announced today that three additional retail tenants – four concepts – will join Watermark Tempe's Phase I. The four concepts are DRNK coffee + tea, QWENCH juice bar, Crumbl Cookies, and Sugar Me Wax.
Cushman & Wakefield's Brent Mallonee is exclusively marketing the retail and restaurant space. He says, "As construction proceeds and summer is ending we're getting tremendous traction on our lease up at Watermark Tempe."
DRNK coffee + tea and QWENCH juice bar are two emerging concepts based out of Hollywood, Calif. that will occupy 2,408-square-feet in its first Arizona location. DRNK is an edgy new franchise model offering world class organic lattes, espressos and teas. QWENCH offers a diverse selection of raw squeezed juices, nutrient dense smoothie blends (infused with superfoods), handmade organic Açaí bowls and other healthy snacks.
Crumbl Cookies will occupy 1,353-square-feet of space at the new Tempe development. The first Crumbl opened in Logan, Utah in 2017 and has since expanded to over 31 locations in six different states.
Phoenix-based, Sugar Me Wax is a full body salon that offers sugaring, waxing, skin care and lashes/microblading. Since its inception in 2018, Sugar Me has expanded with eight locations throughout the Valley and the 1,136-square-feet space at Watermark will be its ninth location.
"The vision for Watermark to become Tempe's new lifestyle destination is quickly being realized. As we continue to expand and diversify the center's mix, these retailers will provide an amenity-rich environment for our office tenants, residents of Aura apartments and the community. We look forward to the grand opening of all of our retail partners and their success," said Fenix Development's Mike Loretz.
Phase I is set to be completed by October 2019, and will include 44,000 SF of high-end restaurant and retail space. DRNK coffee + tea and QWENCH juice bar, Crumbl Cookies, and Sugar Me Wax are the most recent tenants to join Obon Sushi + Bar + Ramen, V's Barbershop, Dip Nail Bar, and Panini Kabob Grill. Opening dates coming soon.