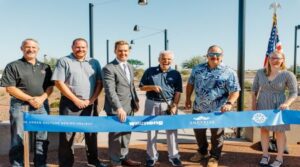 SURPRISE, Ariz. – When the City of Surprise envisioned a public space that is both visually impressive and educational, they turned to Willmeng Construction to bring that vision to life. On September 17, Willmeng and the city unveiled the new Xeriscape Demonstration Garden, a 2.5-acre space located just north of the Surprise City Hall.
The Xeriscape Demonstration Garden educates the public on the low water use plants and trees featured in the garden that are compatible with Arizona's Sonoran Desert. Various signage throughout the garden provides visitors information about the different species. Reclaimed water is utilized by the low water use irrigation system. The garden is also graded in a way to allow water harvesting within the garden.
The garden was designed by Urban Culture Design and features four unique zones. One features low desert native plants; the second native compatible plants that thrive in dry, desert conditions; a third zone is a sensory garden space with diverse colors, smells and textures; and the final zone is plants with different blooming times throughout the year to provide a year-round color display in the garden.
The garden features an amphitheater located on the upper terrace for group settings and also features a seating area. The lower terrace consists of tiered benches where one can sit after touring the garden. There are two pieces of garden art which were designed by high school students in the Gallery 37 program through the West Valley Arts Center. There is also a water education center next to the garden and master gardeners will hold regular hours at the center to help residents with their garden or landscaping needs.
The Xeriscape Demonstration Garden was the most recent parks facility project Willmeng has completed, coming on the heels of the BLVD Water Features Park in Avondale. Willmeng is currently wrapping up work in Buckeye on the 38-acre Sundance Park Phase II and is underway at another park in Surprise, the 12-acre Countryside Park, which will deliver eight, new multipurpose sports fields to the community.
The Xeriscape Demonstration Garden was made possible through funding from the Arizona Department of Water Resources, Arizona Department of Forestry and Fire Management, United States Forest Service, Mountain States Wholesale Nursery, and the City of Surprise Arts and Cultural Advisory Commission. Key trades partners on the project were Cruz Concrete, Carter's Inc. landscaping, Echo Canyon Electric, Atwater Construction and M & J Construction.
PHOTO:  Surprise Mayor Skip Hall prepares to cut the ceremonial ribbon for the Xeriscape Demonstration Garden in Surprise. (Photo credit: Small Giants, LLC)   For a video tour of the Xeriscape Demonstration Garden, visit the City of Surprise YouTube page at: https://www.youtube.com/watch?v=eg9mSQicVxk&t=4s