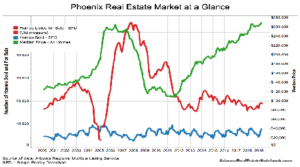 By Katherine Davis-Young | KJZZ
PHOENIX – Look around central Phoenix and you see cranes, construction sites and impressive new buildings. The signs of a boom are everywhere, but the bustle isn't benefiting everyone.
Our population is among the fastest-growing in the country, with about 200 people moving to the Phoenix area every day from July 2017 through June 2018.
One of them is Chanel Sinclair, who moved here from California in 2015.
She had heard that Arizona was an affordable place to live, certainly cheaper than California. But as a single mom who doesn't earn a lot as a teacher's aide, Sinclair found out pretty quickly that Arizona isn't as cheap as she'd been led to believe.
"Nope, there was not a lot of options. It was really hard. It was very hard," said Sinclair, who found a place in Glendale.
Arizona now has the third most severe shortage of affordable housing in the country, according to the National Low Income Housing Coalition. For every 100 extremely low-income people in the state, it said, there are only 25 places to live that they potentially could afford.
Affordability is a problem that's been a long time coming, some experts say.
Ben Stanley, a postdoctoral researcher at Arizona State University's School of Sustainability, said this isn't the first time Phoenix has experienced enormous population growth.
"Phoenix changed drastically, actually starting with the 1930s under the New Deal, but especially with the start of World War II," he said. "And once the ball started getting rolling on growth, it seemed like it just, it never stops."
From 1950 to 1960, Phoenix's population more than quadrupled, driven by the baby boom, the ample availability of cheap land and even the development of air-conditioning. Suburban sprawl was taking off nationwide, especially in Phoenix.
In the decades after World War II, metro Phoenix was expanding so fast that a lot of the area's economy was driven by the growth itself, dependent on construction jobs, real estate and more homes and apartments.
"It doesn't seem especially sustainable," Stanley said, "not just for actual environmental reasons, but just for economic reasons that how do you have an economy that it constantly requires more people to move to the, so the area is constant, requires unending construction and so on."
Phoenix became so dependent on development that it was among the hardest hit places in the country when the housing market collapsed in the Great Recession, which began in 2007.
New home construction in Phoenix largely ground to a halt during the recession, but land speculation continued.
"In the early 2000s, a property would be priced at about $10 a square foot for a completely vacant piece of land near downtown Phoenix," Stanley said. "And often after being bought and sold about six times in the span of two years, these properties went up to over $100 a square foot. So many times, these properties went up tenfold and value without any, any improvement whatsoever being done to the property itself."
That means after the recession we had very little new housing, but land prices in many areas continued to inflate.
Kelly McGowan is with the nonprofit Wildfire, which works to fight poverty in Arizona. The other thing the recession left behind in the Phoenix area was low wage jobs, she said.
"We lost a lot of high wage jobs, and we replaced those with low wage jobs. So there's that component a lot of people who were making more prerecession came back into the economy making less than they were before," McGowan said.
According to Wildfire, the income needed to afford a one bedroom in the Phoenix area has risen about a dollar in the past year, to roughly $16.70 per hour. But half of all jobs in Arizona pay less than $15 an hour, and that widening gap between housing costs and wages is starting to make a noticeable impact on Phoenix residents.
"Last year, 25,000 families were evicted from their homes in Phoenix and 45,000 were evicted in Arizona. That's a 400% increase over the last 10 years," McGowan said.
So suburban sprawl, lingering impacts of the recession, land speculation, low wages and rapidly increasing demand for housing have all contributed to a scenario where a working single parent like Sinclair can barely afford to live in Phoenix.
"I think more places like low income apartments and housing should be available because it was hardly any available," she said.
Housing advocates said without strategic intervention, Phoenix's affordable housing shortage is likely to get worse.
This story is part of Elemental: Covering Sustainability, a multimedia collaboration between Cronkite News, Arizona PBS, KJZZ, KPCC, Rocky Mountain PBS and PBS SoCal