Strong permits, house starts and land development add to an improved economic outlook
TUCSON, Arizona -- The year 2016 was a good one for the Tucson home building market and for Tucson in general. The Great Recession took its toll on Tucson and attitudes regarding the economy and future growth were often negative for many years. It seemed jobs and growth were passing us by in favor of larger markets, including Phoenix just to our north. The housing market began its turnaround in 2012 but it was slow. The driving force of the housing rebound was the move-up markets, particularly in the Northwest submarket. While the higher prices and increased sales were welcomed, there was also an underlying concern of the sustainability and depth of this move-up market in Tucson where the median household income is only $46,162 (per US Census). The lack of high paying jobs was always a point of discussion.
In 2016 things began to change. In March, Banner Health announced that it had allocated $500 million for capital improvements in Tucson which would result in significant construction and other related jobs. Home Goods purchased land to construct a distribution center and announced in April that it would be looking to hire 400 employees initially and then increasing that number to 900 in subsequent years. Then in May, Caterpillar announced that it would be relocating its Surface, Mining & Technology Division to downtown Tucson. They estimated this would bring in 600 executive level jobs within the next five years. The biotech company Monsanto purchased 155 acres in Marana in October and plans to employ 50 initially but the operations may expand to employ much more. Raytheon announced in November that they plan to expand in Tucson and hire an additional 2,000 employees over the next five years. That same month Lucid Motors announced plans to construct a plant in Casa Grand to assemble electric cars. It hopes to employ 2,000 workers and be at full capacity within six years.
The impact of the employment and economic benefit of these future jobs is significant. An additional benefit that is hard to quantify is the number of supporting vendors and businesses that will follow these larger corporations to Tucson. With these job announcements attitudes regarding the economic outlook of Tucson are now extremely positive, a near 180 from just a year ago. This optimism is spreading through the home building industry as now they can more easily identify future demand for housing.
The builders and developers deserve credit for exercising their faith in the future growth and strength of the Tucson market as 620 permits were pulled in Q1. This was 80 more than Q4 2015 and 150 more than Q1 2015. In Q2 there were 750 single family permits pulled. This was followed up with 622 and 667 in Quarters 3 and 4 respectively, for an annual total of 2,699 permits, a 24% (523 permit) increase over 2015.
Builders have been working hard to fill their pipelines with lot inventory over the past few years primarily with platted lot purchases. These lots began to enter the market in significant numbers in 2016 with 1,953 new lots being completed. This is a roughly the same number as the prior two years combined when 873 and 1,139 lots were brought to market. It will be crucial to maintain or increase this pace of development to meet the demands of the improving market.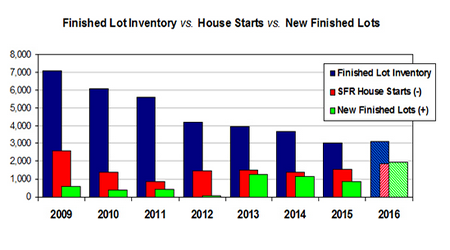 One negative aspect of the year related to land was a significant drop in the value of land transactions and correlated lots. In 2016 the total value of the 49 single family related land purchases was $64.9 million with 1,474 lots. This is considerably lower than the prior four years:
2015: $118.8 million / 3,766 lots*
2014: $108.6 million / 2,457 lots*
2013: $127.1 million / 4,765 lots*
2012: $ 97.4 million / 2,362 lots*
* lot numbers are approximate as some raw or block platted land deals did not have lot counts associated with them. Once entitled, these lot counts will increase.
Each of the prior four years had at least one extraordinary purchase, which 2016 lacked. While this lower number of lots purchased should not impact 2017, it may start to impact 2018 and beyond if builders and investors do not increase their land purchases and lot development going forward. The current strong economic outlook should bolster confidence and we should see more deals being done this next year. We are excited for the Tucson land market as we begin the new year in 2017.
* Permit data from Bright Future Real Estate Research, LLC and Sales comp data from RED Comps a division of Real Estate Daily News Comps (realestatedaily-news.com)
For the full report click here.  To learn more Aaron Mendenhall can be reached at 520.747.4000 x102 for additional insight and information.