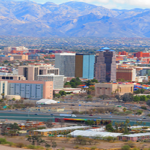 Editor's Note: This article was first published in OnlyInYourState back in June of this year and is a timeless reminder of some of the reasons we live in Tucson and why others wish they did too. Please go to https://www.onlyinyourstate.com/arizona/az-move-to-tucson/ for the full article and to view some amazing photos of the Old Pueblo.
You can keep the conversation going by joining us on Facebook to tell others your reasons for living here. We know there are more than a dozen.

As Posted in Arizona by Monica Spencer
Have you heard? Tucson is one of the most affordable places to live! Financial website Go Banking Rates recently named the city the most affordable to live in for under $45,000, which is perfect for those on a startup salary or a fixed income. According to research, the average resident will need $39,966 to live comfortably in Tucson with less than $20,000 of that to spend on necessities like rent, groceries, and bill payments.
So, what makes the Old Pueblo so affordable and awesome place to live? Check out a few good reasons to consider making Tucson your new home.
Rent for a two-bedroom apartment is just a hair over $800. According to the website Rent Jungle, the average rental price for a two-bedroom apartment in Tucson is $808.
Tucson's air is fresh and clean! In 2013, Tucson received recognition for having the best city air quality by the American Lung Association.
The Old Pueblo is well-known for its scenic desert views. Surrounded by mountains, Saguaro National Park, and other beautiful parks, Tucson has a lot going for it nature-wise!
Public transportation is inexpensive and (slowly) improving. All of Arizona's public transportation services could use some help but Tucson's is pretty affordable. A full day pass costs $3.50 (compared to $4 to $6 in Phoenix).
The weather is, on average, 8 degrees cooler than Phoenix. This means the evening temperatures can actually get deliciously cool in the summer instead feeling like an oven cooling down.
A cool mountain vacation is just an hour away. If the temperatures aren't cool enough, then just head up to Mount Lemmon which is a 40-mile drive from central Tucson.
You are more likely to witness that rare treat of snow in the desert here. What more could you want in winter?
Tucson is the "astronomy capital of the world." Just one-hour away from Tucson is the Kitt Peak National Observatory, which houses 26 telescopes, the largest collection in the world. Even in the city, you're likely to see the stars quite clearly each night.
For all you parents and bookworms out there: Tucson is also one of the most well-read cities in the country. According to Amazon's 2016 data on city reading material purchases (which includes books, magazines, and newspapers), Tucson ranks number 7 in the country. The city is also home to one of the largest book fairs in the country, the Tucson Festival of Books.
Tucson is also a cycler's paradise. Bicycling Magazine ranked the city as one of the best places for cycling and Better Doctor Health ranked Tucson as the 7th most bicycle-friendly city in the country.
It's a city proud of its history and with plenty of historic buildings to prove it! A walk through downtown or to historic buildings, like Mission San Xavier del Bac, will show you that the past really isn't that far away.
Tucson's downtown area has been booming in recent years thanks to revitalization efforts and the streetcar line.
Again, we would love to hear your comments by joining us on Facebook to tell us why you live here (or wish you did).