SubZero to Expand Existing Facility at Prominent West Valley Business Park
Phoenix, Ariz. – CBRE has completed the sale of an 11.5-acre land parcel at PV303, the master-planned business park which sits at the confluence of Interstate 10 and Loop 303 in Goodyear, Ariz. The land parcel commanded a sale price of $2 million ($4. PSF).
Pat Feeney, Dan Calihan and Rusty Kennedy with CBRE's Phoenix office negotiated the transaction on behalf of development owner, Sunbelt Holdings. The land was purchased by SubZero, who was represented by John Pompay with Cassidy Turley's Phoenix office.
SubZero currently operates a 438,501-square-foot manufacturing and distribution facility within PV303 at 4235 N. Cotton Lane in Goodyear. The industry leader in premier cooking and preservation appliances has purchased the additional 11.5 acres to facilitate an expansion of their current facilities, which SubZero purchased in 2010.
"This sale is a testament to the continued recovery of the industrial market in Phoenix," said CBRE's Feeney. "The Phoenix metro has become recognized as a mature industrial market and a large number of users are actively looking across the Valley. SubZero, who's already been in the market for the past four years, recognizes the benefits offered in metro-Phoenix and PV303 in particular."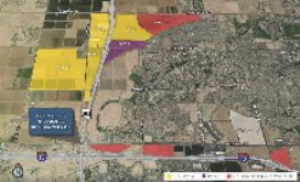 Acquired through a Sunbelt Holdings venture in 2010, PV303 is a master-planned business park designed to meet the growing demand for commercial and industrial opportunities in metro-Phoenix. At build-out the park will offer ±1,600-acres with 20 million square feet of office, retail and industrial space. Ideally situated to serve Arizona as well as key markets in the western U.S. like the Ports of Long Beach; Los Angeles and San Diego, Calif.; El Paso, Texas; and Las Vegas, Nev., PV303 benefits from approved Foreign Trade Zone status on portions of the property. This FTZ status provides special customs procedures to U.S. plants engaged in international trade-related activities, making it an attractive opportunity for major companies looking to locate in the metro-Phoenix area.
In addition to the SubZero manufacturing and distribution facility, PV303 is currently home to Dicks Sporting Goods' western United States Distribution Center.
Feeney, Calihan and Kennedy should be reached at CBRE's Phoenix office at (602) 735-5555.