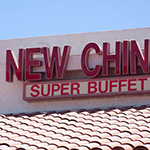 Phoenix, Arizona – Many residents in Sun City, AZ were able to enjoy the New China Super Buffet for 20 years, but there comes a time to retire and that's what the tenant did.  With the extreme used conditions, the seller either had to tear it down or completely renovate it. After representing the seller on several sales in the past, Judy Jones found the perfect option for the seller, and a lucrative one.
Judy Jones, Mary Ridberg, and Rommie Mojahed with Sperry Van Ness of Phoenix represented Roy S. Ludlow Investment Company with the sale in the amount of $520,000.  The property is located at 10801 W. Grand Ave. in Sun City.  Chris Lovett, with Precision Title handled the transaction to close the deal.
Anthem RV's original location is located up in New River and the current investment will allow them to use this Grand Avenue property to continue to expand and grow their business. After leasing this for over one year, they have already renovated the property from the extremely used conditions this was in when they took over the lease.  "This is an excellent example of how patience was crucial in the buyer's ability to "reposition" a property in a great location, to suit their business," Jones said.
After going through many obstacles through Maricopa County in order to obtain the "use permits" to operate their business, the new owners finally reached the long waited goal of ownership.  The Branam's speaking highly of their Advisor stating, "Judy Jones has always been available to provide information and assistance with our real estate needs in the Phoenix area.  It is very valuable to have a local contact in the market where you have investments.  Judy does an excellent job communicating and paying attention to detail."