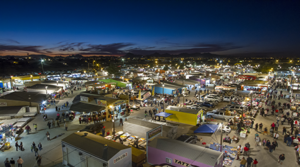 By: Rob Sieban, President, CEO and Co-Owner of United Flea Markets
Who doesn't love a good flea market? A huge place you can wander and practically get lost in for hours, full of deals and potentially magical finds — it doesn't get much better than that.
At Tanque Verde Swap Meet we have 800 vendor spaces on 33 acres where we welcome well over a million visitors a year. In fact, it's one of the largest outdoor marketplaces in southern Arizona.
While Tanque Verde has been a fixture in Tuscon since 1975 and there's a fantastic local following, we want to be sure we're giving our guests reasons to come back again and again.
Here are three trends we're keeping our eye on in the flea market industry and putting it into action in Tucson:
1. Resale popularity will continue to grow
Research has shown that traffic is down in conventional brick-and-mortar retail stores, with consumers seeking alternate avenues for their spending dollars and showing a desire to choose their purchases with sustainability in mind. At the same time, the flea market business has been stable with an expected upward trajectory in 2020. According to Forbes, resale activity represents $24 billion industry and threatens both traditional brick-and-mortar retail sales and internet sales. The market is projected to continue to grow and hit $51 billion by 2023, which is good news for those of us in the flea market, consignment and resale businesses.
2. Adapting to a new generation of consumers will be key
Today's younger consumers – Millennials and Gen Z – are smart, frugal, and socially and environmentally conscious. Ostentatious over-spending is not for them. Younger generations have a heightened desire for vintage and repurposed merchandise rather than purchasing mass-produced, foreign-made items through big-box retailers. One-of-a-kind offerings are paramount with today's younger consumers, even when it comes to gift giving. In 2020 Flea markets will continue to evolve to provide amenities and offerings that younger consumer are looking for, including a great time searching for the perfect treasure.
3. Experience will continue to matter
A big sale is no longer enough to attract today's consumer. Flea markets are inherently experiential, with many offering live music, pop-up events, a wide variety of food choices, kids rides, farmer's markets and more. Changing consumer demands that require more than just a sale will allow flea markets to continue to prosper by offering experiences not found elsewhere.
Shoppers are evolving and time has become the most precious commodity. With limited free time, consumers will become even more selective about how they spend that time. In 2020, flea market operators and vendors will need to continue to up their game, providing their guests and customers with the experiences they seek in environments that entertain, provide a diverse menu that is pertinent to the region, and offer unique finds for the shopper. Our goal is to make each visitor to Tanque Verde Swap Meet feel like the opportunities for discovery are endless.
Robert Sieban – President, CEO and Owner, United Flea Markets which owns Tanque Verde Swap Meet: Rob serves as a past president and chairman of the National Flea Market Association Board of Directors. He earned his on-the-ground credentials starting in 2011 when he took over the leadership as CEO and operator of Denver's Mile High Flea Market, the third-largest outdoor flea market in the nation. Throughout his 20-plus years in the retail environment, Rob has held several leadership positions in buying and merchandise planning and allocation; worked directly with many large and small private-equity firms; and served as an officer of publicly traded companies. Rob also held executive positions in the direct-to-consumer market, with a concentration on scalable platforms, most notably at Sunglass Hut International and Lids Corp, which experienced worldwide growth during his tenure.