MDA to Remain As Tenant – Property Renamed to 'The Offices at La Paloma'
Tucson, AZ, March 14, 2014 – The sale of the 82,942 sq. ft. Muscular Dystrophy Association (MDA) offices at 3300 E. Sunrise Drive took place today, closing at 1:10 p.m., to an affiliate of Tucson-based, Larsen Baker, LLC.  The final purchase price was $9.1 million ($110 PSF) that includes a sale-leaseback by the MDA for a portion of the facility who announced last September that they would be relocating headquarters to Chicago. For prior story click here: http://realestatedaily-news.com/?p=4016
The Tucson facility has 7.14 acres that deliver some of the most scenic views to be found anyplace. With Sonoran Desert and City views from the base of the Catalinas, there are breathtaking panoramic mountain vistas from the site. The land was gifted by Pima County in 1990 to MDA when it first moved its national headquarter to Tucson from New York.
MDA will remain as the major tenant in the offices and said it looks forward to working with Larsen Baker as the MDA building transitions into a multi-tenant corporate office complex to be called The Offices at La Paloma.  Last September, MDA announced it was putting the facility up for sale, but would be keeping the majority of its employees in Tucson.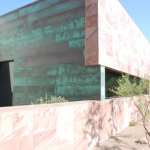 The main 67,020-square-foot, 2–story, curvilinear design building was completed in 1992, and a 15,922-square-foot LEED Silver building was added in 2010, creating a truly unique corporate office environment. The property boasts striking executive and private offices around a central cubical office area, conference rooms, auditorium, atrium entrance and gathering areas, complete with media studio, mail and print rooms, kitchen and break rooms, exercise and locker rooms, loading dock and other utility functions.
Don Baker, co-owner of Larsen Baker, released an architectural rendering of how the former single tenant building will be repurposed to serve as corporate offices for multiple executive users.  Larsen Baker plans to make improvements to the entry drive, landscaping and signage and then work with TREO to implement a nationwide search for corporate headquarters that could relocate to Tucson.
Richard Kleiner, MBA, Principal of Cushman & Wakefield|PICOR, and Eric Sorensen, Senior Director of Cushman & Wakefield, represented the Seller.  Andy Seleznov, CCIM and Melissa Lal, CCIM of Larsen Baker and James Marian, CCIM and Juan Teran, CCIM with Chapman Lindsey Commercial Real Estate Services in Tucson represented the Buyer. Larsen Baker will handle the office leasing of the property.
Kleiner can be reached at (520) 546-2745 and Sorenson in Chicago is at (708) 752-2268.  Seleznov and Lal should be contacted at (520) 296-0200; and Marian and Teran are at (520) 747-4000, for more information.