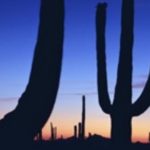 Petrus Partners, Ltd., operating in Tucson under the name of Crown West Land Group, (Dean Wingert, Vice-President) purchased 586 acres of the Pomegranate Farms Master Plan for $4.2 million ($7,167 per acre). The specific plan is approved by the county for residential and commercial space. Residential entitlement is for 3,100 to 4,500 SFR lots with a target of 3,463 lots.
"The 586-acres represents the majority of the Master Plan Community located southwest of Ajo and Valencia," Dean Wingert with Petrus-Crown West told us. The seller was IMH, a lender in Scottsdale, AZ. An additional 60-acres still lender-owned, is also in the sights of Petrus-Crown West Group. Both properties fell into foreclosure about 3-years ago.
Wingert said, "The Master Plan was put in place around 2005-2007 and we aren't rushing to move dirt. We'll be rethinking the plan in entirety, with floodplain issues to consider and have no timeframe for development."
The property is adjacent to Sendero Pass, a community purchased by Phoenix-based Sunbelt Holdings about 2-years ago; Sunbelt also has no need to rush for development.
According to Wingert, "The state has plans to widen approximately 6 miles of Ajo Hwy from two to four lanes soon, that with the property located just west of Casino de Sol helped in our decision-making." Pomegranate Farms is in a portion of Pima County that has been designated and is expected to experience a significant expansion in regional population. The Master Plan Specific Plan has been designated to help fill the need within Tucson's Southwest submarket.
Pima County Department of Transportations in conjunction with the Regional Transportation Authority's Roadway Improvement Plan is planning improvements to the Valencia Road Corridor, including northern project frontage between now and 2016.
The property also has several offsite panoramic vistas including the Tucson Mountains to the northeast and the Sierrita Mountains to the southwest.
The Real Estate Daily News reported last April that Petrus was interested in acquiring additional investment opportunities in residential lots and entitled and un-entitled land. See https://realestatedaily-news.com/?p=171
Petrus - Crown West Group continues work in Gladden Farms and is developing 340-lots at Santa Rita Ranch III in Corona de Tucson. Wingert told us to expect these new lots to be ready later this year.
Will White of Land Advisors Organization in Tucson negotiated the transaction of Pomegranate Farms that was in escrow for about 6-months.
White can be reached at (520) 514-7454. Contact Wingert at (520) 888-3962.
Login for additional information.
[mepr-show rules="58038"]Sale date: 3/19/2014. Down Payment: $3 million. APNs: 210-40-022A & 023E. Zoning: Pomegranate Farms Specific Plan; plan put in 2005. [/mepr-show]