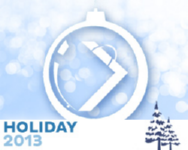 This year the holiday shopping season started as a marathon, not a sprint. Target, Macy's, Best Buy, Walmart and other retailers offered holiday discounts in early November and opened stores on Thanksgiving Day. It was an effort to attract shoppers before Black Friday, the day after Thanksgiving that traditionally kicks off the holiday shopping season. This year may cement the transformation of the start of the holiday shopping season into a two-day shopping affair.
Those tactics drew bigger crowds, but failed to motivate Americans to spend.
Due to variation in the 2012 and 2013 holiday shopping calendars with Thanksgiving falling so late this year, current season figures are being compared to last year's, which contain a full week of heavy post-Thanksgiving/Cyber Week buying. As a result, the season-to-date growth rate is being artificially suppressed in the short term, with the effects likely to normalize as the season progresses. (An alternative comparison to the four weeks preceding Thanksgiving in 2012 shows a growth rate of 24 percent, which overstates the growth trend much in the way the current rate understates the real growth trend.)
ComScore, a leader in measuring the digital world, reported U.S. desktop retail e-commerce spending for the first 29 days of the November–December 2013 holiday season. For the holiday season-to-date, $20.6 billion has been spent online, marking a 3 percent increase versus the corresponding days last year.
Black Friday 2013 (November 29) saw $1.198 billion in desktop online sales, making it the season's first billion dollar day and heaviest online spending day to date, while representing a 15 percent increase versus Black Friday 2012. Thanksgiving Day (November 28), while traditionally a lighter day for online holiday spending, achieved a strong 21 percent increase over Thanksgiving Day last year to $766 million.
Meanwhile, the National Retail Federation (NRF) estimated on Sunday that retail sales over the full Thanksgiving weekend would reach $57.4 billion, with the average shopper spending $407.02, down from $423.55, because of lower prices.
But total spending is expected to fall for the first time ever since the NRF began tracking it in 2006, according to the survey that was released on Sunday. Over the four days, spending fell an estimated 2.9 per cent to $57.4 billion.
The survey underscores the challenges stores have faced since the recession began in late 2007. Retailers had to offer deep discounts to get people to shop during the downturn, but Americans still expect those "70 per cent off" signs now during the uneven economic recovery.
Stores may have only exacerbated that expectation this year. By offering bargains earlier in the season, it seems they've created a vicious cycle in which they'll need to constantly offer bigger sales to get people to spend. That's because shoppers who took advantage of "holiday" deals before Thanksgiving may have deal fatigue and are cautious about buying anything else unless it's heavily discounted.
As one Tucson shopper said, "Wait, we are going to see an increase in markdowns," as the economy speaks loud and clear. "Nowadays, you have to think about what you spend," she said.
Matthew Shay, president and CEO of The National Retail Federation, said that the survey results only represent one extended weekend in what is typically the biggest shopping period of the year. The combined months of November and December can account for up to 40 per cent of retailers' revenue.
Overall, Shay said the trade group still expects sales for the combined two months to increase 3.9 per cent to $602.1 billion. That's higher than the 3.5 per cent pace in the previous year.
But the early start appeared to pull sales forward. Black Friday sales fell 13.2 per cent from the previous year to $9.74 billion, according to Chicago-based technology firm ShopperTrak. But combined spending over Thanksgiving and Black Friday rose 2.3 per cent to $12.3 billion compared with a year ago.