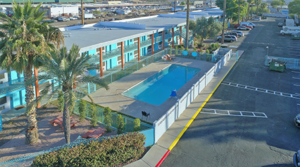 PHOENIX, Arizona – Fully occupied at close of escrow, Porto Fino Apartments recently closed for $6.699 million or $101,500 per unit. Previously operating as a motel, Porto Fino is now a fully renovated, 66 dwelling unit apartment community centrally located near Phoenix Sky Harbor International Airport and sits equidistant to downtown Phoenix and downtown Tempe. The property resides in an Opportunity Zone, which is primed for continued large scale development due to the current cost of surrounding land.
Zack Mishkin of ORION Investment Real Estate represented the Buyer and Seller in the apartment sale.
"This was a home run transaction for both Buyer and Seller," Mishkin said. He continued, "The Seller converted and fully renovated a motel to an apartment complex, capitalized on the massive rental demand in the Gateway Corridor to garner high paying tenancy, and the result was a true 6.5% cap rate deal with substantial upside to the Buyer.  The Buyer inherited a low maintenance, high performing asset in a gentrifying growth corridor with additional rent and operational upside potential. The cherry on top is that the asset is in a valuable stretch of Opportunity Zoned land, so the Buyers should see a continued strengthening of area for many years to come."
The Seller in this transaction was Portofino, LLC. The Buyer was Hayward Apts, LLC & Jehovah-Jireh LLC.