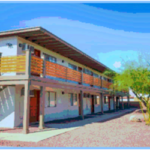 TUCSON, ARIZONA — ABI Multifamily, the Western US's leading multifamily brokerage and advisory services firm, is pleased to announce the $2,385,000 / $35,597 per unit sale of The Sycamore Cove Apartments located at 2458 N Sycamore Blvd. in Tucson, Arizona.
Sycamore Cove is a two story, garden-style apartment community, built in 1979, extensively renovated in 2017, which rests on approximately 1.63 acres.  The property was built of wood frame and stucco, with flat roofs.  The property boasts a mix of 67 Classic, and Renovated, Jr. One-bedroom units with a weighted average size of 400 square feet.  Sycamore Cove amenities include swimming pool, picnic area, laundry facility, fenced in dog-park and ample parking.
"Tucson, as a whole, is receiving tremendous investor interest from across the country and world for that matter," states Alon Shnitzer, Senior Managing Partner, and lead broker for the Seller in this transaction.  "First, the region has experienced sustained job and population growth and secondly, perhaps more importantly, there is very little in the way of new multifamily construction to hamper the continued work force housing demand."
"The Buyer, a private California-based family partnership, has been seeking to diversify its Tucson real estate holdings and this purchase will mark the buyers first multifamily purchase in Tucson," states Jon Ibrahim, Vice President, and lead broker representing the Buyer.  "The purchase of Sycamore allows them to purchase a substantially renovated project with upside should they finish the remaining interior unit renovations."
The Buyer is a private California-based family partnership.
The Seller, an entity formed through Alpha Wave Investors, LLC, is a private investment company based in Laguna Hills, CA.
For additional information Shnitzer can be reached at 602.714.1283, Ibrahim should be contacted at 520.265.1127 and Kippes is at 520.265.1895.
ABI Multifamily (http://www.abimultifamily.com/) is a brokerage and advisory services firm that focuses exclusively on apartment investment transactions.  With offices in Phoenix, Tucson and San Diego, the experienced advisors at ABI Multifamily have completed billions of dollars in sales and thousands of individual multifamily transactions. ABI Multifamily incorporates a global approach with regional real estate expertise to successfully complete any multifamily transaction, regardless of size and complexity.