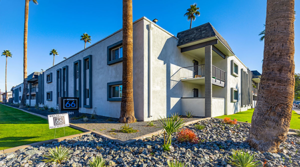 Phoenix, Ariz. -- ABI Multifamily is proud to announce the $10,175,000 / $154,167 Per Unit / $168.18 Per SF sale of Mission 66 in Phoenix, Ariz.
Mission 66 is a 66-unit garden-style apartment community in the East Phoenix submarket. The immediate area is filled with an extensive range of retail and restaurant options, and the State Route 51 freeway is 1.5 miles away.
Built in 1970 and fully renovated in 2019, Mission 66's 22 one bed/one bath and 44 two bed/two bath units have all been upgraded with new cabinets, stainless steel appliances, stone counter tops, vinyl plank flooring and new fixtures.
ABI Multifamily's Rue Bax, Alon Shnitzer, John Kobierowski, Eddie Chang and Doug Lazovick represented the Buyer and the Seller.
"The Seller and Buyer came together with a lot of synergy in this transaction," Bax said. "Because the Seller renovated the property into a fully turnkey asset, the Buyer is able to step in and immediately begin realizing value on the investment without having to further refine or reshape the property."
The Buyer is a Canadian-based private real estate investment group. The Seller is a private real estate investor based in California.