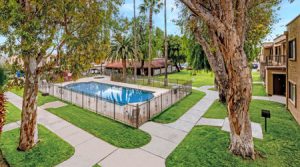 Phoenix, AZ. (September 1, 2023) – ABI Multifamily, the leading multifamily brokerage and advisory services firm in the Western US, is pleased to announce the $19,500,000 / $121,875 per unit / $207.84 PSF sale of Via Alamos Apartments, a 160-unit multifamily apartment community located in Green Valley, Arizona, the first multifamily sale over 100 units in 2023.
The buyer and seller are based in Arizona and were represented by ABI Multifamily's Phoenix-based Institutional Apartment Group - Alon Shnitzer, Rue Bax, Eddie Chang, and Doug Lazovick in collaboration with ABI Multifamily's Tucson Apartment Team - Desiree Palmer, Ryan Kippes, and Nathaniel McAdoo.
Via Alamos Apartments is a 160-unit, garden-style apartment community in Green Valley, AZ. Situated on West Via Alamos Drive just east of North La Cañada Drive, residents enjoy access to downtown Tucson directly via an approximate 30-minute drive by way of the Interstate 19. In addition, many neighborhood conveniences and services are located nearby, such as Walmart Supercenter, Petco, PetSmart, Ace Hardware, Sprouts Farmers Market, Walgreens, and Safeway.
Completed in 1984, the Via Alamos Apartments is constructed of wood frame and stucco with built-up flat roofing. The property features an attractive unit mix that consists of 88 one-bedroom / one-bathroom units, 56 two-bedroom / one-bathroom units, and 16 two-bedroom / two-bathroom units. Each unit is individually metered for electricity with individual hot water heaters. Unit interiors feature air conditioning/heating, refrigerator, oven range, linen closet, high-speed internet, and cable access. Select units include a balcony, dishwasher, garbage disposal, and additional storage. The community also provides its residents a swimming pool/spa, fitness center, basketball court, dog park, children's playground, dedicated leasing office, laundry room, additional storage, and on-site covered and open parking. Significant employers near the property include the Tucson International Airport, Raytheon, Freeport McMoRan Mine, and Davis-Monthan Air Force Base.
To learn more, see RED Comp #10867.