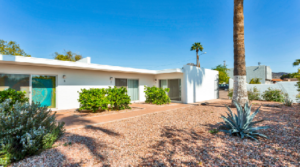 Phoenix, Ariz. – ABI Multifamily is proud to announce the $3,480,000 / $145,000 Per Unit / $202.09 per SF sale of Ocotillo Apartments in Phoenix, Ariz.
The Ocotillo Apartments transaction consists of 24 garden-style units in the North Central Phoenix submarket, conveniently located near Uptown Plaza, the Midtown Phoenix Light Rail, and the State Route 51 Freeway. In addition, the property is located down the street from the brand-new Wyatt Communities of Arizona Residential Development as well as a short 15-minute drive to Phoenix Sky Harbor International Airport.
With 24 units built in 1963, the Ocotillo Apartments feature six individual four-plex properties on separate parcels. The apartment community is comprised of 50% two-bedroom units and 50% one-bedroom units. All units are individually metered for electricity, while 66% of the units have private fenced backyards.
ABI Multifamily's Mitchell Drake and Ryan Smith represented the seller. ABI Multifamily's Dallin Hammond and Rue Bax represented the buyer.
"This is a great opportunity for the Buyer as the property is located right along the canal in Uptown Phoenix," states Dallin Hammond, Vice President at ABI, who represented the buyer in the transaction. "With the properties being separately parceled and contiguous, it provides the Buyer with numerous exit strategies in the future."
"The Seller's initial plans were to hold these apartments long term and eventually buy out the remaining ownership within the community," explained Mitchell Drake, Vice President at ABI who was in representation of the Seller. "Due to the low supply and high demand for multifamily in Uptown & Central Phoenix, the Seller decided to forgo his holding pattern and capitalize on the current market conditions."
The Buyer is an Arizona-based private investor. The Seller is a New York-based private investor.