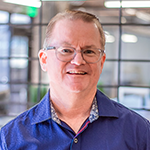 Phoenix, AZ – ABI Multifamily, the Western US' leading multifamily brokerage and advisory services firm, is excited to announce Jack Hannum has joined the firm as Senior Vice President in the company's Phoenix Office. Hannum will focus on enhancing the firm's Institutional presence, primarily focusing on properties of more than 150-units.
John Kobierowski, Senior Managing Partner, states, "We've wanted to add Jack to our team for quite a while, and we're thrilled the timing has finally worked out. His down to earth, pragmatic approach to business fits perfectly with our company culture, and his background and expertise in finance and deal structure deepens our suite of skills and service offerings even more. Jack brings an excellent pedigree of strong client relationships. People love working with him, and we're glad he's now working with us."
After four years of service in the U.S. Navy onboard USS Princeton (CG 59), during which he participated in Operation Desert Storm, Jack graduated magna cum laude from California State University, Northridge with a B.S. in business and finance. A long-time Phoenix resident, he has spent more than 20 years serving commercial real estate clients and guiding them through an array of complex transactions.