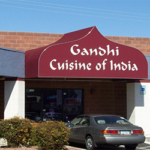 Rich Rodgers of Tucson traded into the purchase of Acacia Square at 20-194 East Fort Lowell in Tucson for $1.45 million ($38.55 PSF). The 37,613-square-feet strip center was built in 1986 and sits on a 2.96-acre parcel with multiple tenants at the northwest corner of Fort Lowell Road and Stone Avenue.
Rodgers had recently sold the building at 3655 E 2nd Street and this was an upleg in a 1031 exchange.
Major tenants include McGary's Discount Grocery, Gandhi Cuisine of India, and Parkinson Wellness Recovery.  The strip center was 2/3 occupied at time of sale.
Julie Niles with Venture West in Tucson represented the seller, 1031 Holder LLC of Patagonia, AZ.  The investor was represented by Brandon Rodgers, CCIM, with Cushman & Wakefield | Picor in Tucson.
Rodgers has also been retained for leasing the property.
For additional information, Rodgers can be reached at 520.546.2714 and Niles should be called at 520.722.9292.