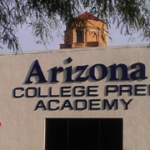 This article has been archived, please login for access or subscribe now for a free trial.
Arizona College Prep Academy (ACPA) opened in its new 11,308 sq. ft. location at 3434 E Broadway Blvd in Tucson right on time for the start of the school year. Most of us are unaware however, of the planning, locating and facility challenges that ACPA learned through this experience.
The 11,308 SF commercial property on .95 acre had been repurposed as a charter school facility by BASIS Schools and purchased for[mepr-show rules="58038"]$1.4 million ($124 PSF).
The school's prior space was no longer conducive to educational needs - this new space was tailored to the school's educational needs and specs. Students, parents, teachers, staff and the community are excited. The new building is perfect for the school's needs and gives them room for continued growth, allowing their enrollment increase to 135 students this school year and a student count up to 160 in the future. With all the interior and exterior modifications that support classroom activities and lunch and pantry programs, the school is now more effectively and efficiently configured to accommodate students, faculty and staff.
Improvements made to the property include adding a new parking lot, upgrading the HVAC system, installation of a new IT closet with separate HVAC system. The facility was completely wired for WIFI.
ACPA first opened in 1997 as an affiliate of AmeriSchools network and became an independent charter school in 2012. Growing and in need of a new facility, school administrators were faced with unexpected challenges. Banks would not provide funding because they viewed ACPA as a new school and therefore a high risk. Likewise, the school was ineligible for start-up school funds because it was a pre-established charter transfer. In an effort to find the resources they desperately needed, school officials contacted several third-party funding organizations. However, none came through. Enter Charter School Capital of Portland, OR, the only organization with both the ability and desire to help Arizona College Prep find financing for this property.
"ACPA is one of only eleven schools in Arizona of its type with an A rating, and the only one in Tucson," Stuart Ellis, CEO of Charter School Capital told us. "The idea that a quality school such as this could not get funding was simply unacceptable to hear."
"Charter School Capital looks for quality, sustainability, safety of environment that are financially well-managed, while recognizing the uniqueness of charter school needs," says Ellis. "Banks on the other hand view charter schools with criteria as for any other business, and see a state license with an expiration date as an obstacle. Banks are not in the business of evaluating the intrinsic values of a charter school."
Charter School Capital has been in the business of offering specialized services to charter schools since 2007, from facility support, working capital, start-up to stabilization, as well as access to philanthropists and grant funding. Charter School Capital works with more flexibility than traditional lenders, and has placed $500 million into the charter school market in the past 5 years ago, with no defaults. "We leverage our expertise any way we can, with no minimum or maximum dollar amount," said Ellis. "We have funded as high as $50 million to as small as $18,000."
Freddy Mendoza, assistant principal at ACPA says, "It was a blessing to find Charter School Capital. Working with them has been great. They have been very responsive, very communicative and very much about the school and the kids."
"We couldn't have even looked at a building like this without Charter School Capital," said Mendoza. "They made deals available to us that wouldn't have been otherwise. Once the deal was made they were critical in helping us understand what we needed to do. Their team made it easy for us."
Charter School Capital purchased the property to lease it back to ACPA. Charter School Capital will retain ownership and maintenance of the property, alleviating the need for the school to spend time on building repairs and maintenance.
ACPA has the option to take ownership of the property in the future but for now, they appreciate the time to focus on their staff and students, making everyone comfortable in their new home and letting the community know the school is open for enrollment and growth.
Charter School Capital is in seven states that combined represent 60% of the charter schools in the country. Currently they work with 400 charter schools representing 400,000 students nationally and about 5% of the charter schools in Arizona. This transaction with ACPA is a first of its kind for Charter School Capital to acquire the facility for leaseback to the charter school.
Mendoza agrees with Ellis, "Obviously this is a business deal, we look at the numbers, but we also look at the education of the students provided, and try to help the school stay focused on their mission – educating students."
Nancy McClure of CBRE in Tucson represented Charter School Capital in the purchase of the new facility for Arizona College Prep Academy that opened August 7, 2013 for the school year.
[/mepr-show]
Login for additional information.
[ismember]Charter School Capital also financed furniture and other costs associated to the move for Arizona College Prep Academy in the new facility. Lease rate was reported to be no rent for year one and then $165,000 per year starting in year two.[/ismember]