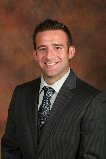 Phoenix, Arizona – Sperry Van Ness, LLC welcomes back Adam Lopez to the Phoenix team of commercial real estate advisors. Lopez worked with Sperry Van Ness back in 2008-2010 and has returned as a valuable asset in the leasing and sale of both retail and industrial commercial properties.
While recently working as the sole leasing agent for Michael A. Pollack Real Estate Investments, Lopez experienced incredible growth and developed a keen expertise in commercial property acquisition, leasing, re-development, re-positioning and asset management. In just under 3 years, Lopez assisted in the redevelopment of over 1.25 million square feet of retail shopping centers and generated over $25 Million in leasing and sales. Throughout his retail career Lopez has established business relationships with numerous local and nationally recognized retailers.
"Adam is laser focused, analytical and has a diverse portfolio of business relationships which make him a highly valuable addition to our team of professionals," said Perry Laufenberg, Designated Broker, Sperry Van Ness, LLC. "Adam is a respected expert in the industry and we are glad to welcome him back."
Earlier in his career, Lopez represented buyers seeking investment opportunities. He performed land acquisition analysis for investment firms, land owners and residential developers targeting asset-heavy publically traded homebuilders with excessive land holdings. Lopez later joined a Scottsdale based corporate real estate solutions firm specializing in Buyer/Tenant representation. Lopez worked alongside Lance Ross, a thirty year industry veteran, on major national accounts such as Home Depot, Freeport Logistics, Café Valley and Alumizona to name a few.
Lopez graduated from St. Mary's High School in Phoenix, Arizona. In 1997, Lopez was awarded Arizona's "Player of the Year" in basketball by USA Today and The Arizona Republic. He earned a full-ride Division 1A basketball scholarship to Kansas State University. After one year in the Midwest, Lopez transferred to Northern Arizona University. Adam graduated NAU with a Bachelor's degree in Business Administration and received recognition as an Academic All-American Student Athlete by the National Collegiate Athletic Association.
Adam Lopez can be reached at (480) 425-5503 or adam.lopez@svn.com