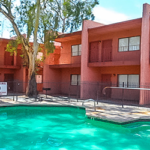 Phoenix, AZ -- ABI Multifamily, a dedicated multifamily brokerage and advisory services firm, is pleased to announce the $5.53 million ($30,385 Per Unit) sale of the 182-unit, Alta Vista Village Apartments, located in Phoenix, AZ. Built in several phases from 1959 to 1973, the property features a mix of Studio, 1-, 2- and 3-bedroom units, with a weighted average unit size of approximately 765 square feet.
"This was a complicated transaction with many different parties involved on the buyers' side. The private capital seller operated Alta Vista Village Apartments as a market rate apartment complex. Through the support of The Maricopa County Industrial Development Authority, the new buyer has now converted the property to being affordable housing and placed it into the Low Income Housing Tax Credit program [more commonly known as LIHTC]," states Alon Shnitzer, Senior Managing Partner at ABI and lead broker for the transaction. "The process to convert a property to affordable housing does take time and sellers need to be patient with it, but it should be noted that this buyer, Walling Affordable Communities, is a very experienced affordable housing developer/operator and knew exactly what to do every step of the way during the escrow."
Located in the West Phoenix Submarket, Alta Vista Village is approximately ½ mile from Grand Canyon University's $500M campus redevelopment plan occurring along the Camelback and Missouri Road Corridors between I-17, Black Canyon Freeway and 35th Avenue. The West Phoenix Submarket, with per capita and median incomes 60% less than the Phoenix MSA at $11,949 and $26,982 respectively, is in desperate need of more affordable housing projects. The 85019 zip code, where Alta Vista Village is located, has only one affordable housing apartment property (50+ units or greater) in that entire area. "The Buyer is acutely aware of the tremendous need for more affordable units in the immediate area. This submarket lacks two, and especially, three-bedroom unit types suitable for families. Alta Vista Village Apartments contains 73% two and three-bedroom unit types, which made Alta Vista Village a perfect candidate for conversion to affordable housing. Walling Affordable Communities' repositioning and upgrade plans for the asset are certainly in line with all the changes occurring in the area and will immediately serve those in need," states Shnitzer.
Alta Vista Village Apartments sit on nearly 7-acres of land, with over 20 total building structures and a dedicated leasing center. Additional property features include: two swimming pools, on-site laundry facilities, ample covered and open parking, a playground and large gathering areas. Alta Vista Village Apartments was approximately 20% occupied at close of escrow.
The Buyer in this transaction is an experienced affordable housing developer, Walling Affordable Communities LP, based in Mesa, AZ.
The Seller in this transaction is a private capital individual based in Beverly Hills, CA.
The Phoenix based ABI Multifamily brokerage team of Alon Shnitzer, John Kobierowski, Rue Bax, Doug Lazovick and Eddie Chang represented both buyer and seller in this transaction.
For more information, Shnitzer should be contacted at 602.714.1283