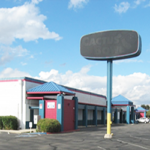 Amerco Real Estate Co. of Phoenix bought the former Cactus Bowl at 1630 S. Alvernon Way in Tucson for $1.58 million ($32.44 PSF) from Cactus Bowl, Inc. of Tucson.
The 48,644-square-feet consisting of former Pima College space and former Cactus Bowling space, has sit vacant after the bowling league moved to Santa Cruz lanes several years ago. Since then, the building offices have been occupied, and other space used by a church, while waiting for the right buyer to discover the property.
Amerco is that perfect buyer that looks for properties to redevelop and will convert the building into a U-Haul Self-Storage and vehicle rental facility on the 3.77 acre lot.
Amerco looks for big boxes and warehouse properties on major commercial arterial roads, with access preferably near or on a corner of two major arteries with convenient access from both directions of traffic. Must have a minimum traffic count of 30,000 cars per day minimum at the curb, in or adjacent to new retail developments and at the edge of new growth areas. The former Cactus Bowl met with the buyers criteria at Alvernon and 27th Street that carries approximately 37,000 cars per day.
Pete Villaescusa, Jesse Peron and Michael Laatsch of the CBRE Tucson office and Jami Savage-Gray with CBRE in Phoenix brokered the sale.
To learn more, Villaescusa, Peron and Laatsch can be reached at 520.323.5100 and Savage-Gray can be contacted at 602.735.1918.
For additional information, see RED Comp #3358.