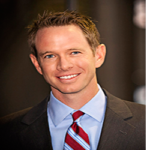 PHOENIX, AZ – Lee & Associates is proud to announce that Andrew Cheney, Principal, has been recently awarded The Counselors of Real Estate (CRE) designation. The credential was awarded on April 1st at the Counselors' 2016 Spring Symposium at Stanford University in California.
Recognized by their peers, clients and employers, this prestigious award is given for outstanding professional achievement, impeccable judgment and commitment to integrity in the field of real estate counseling. Invitation to membership is rare and Counselors must adhere to a strict Code of Ethics and Standards of Professional Practice. Counselors are recognized in the marketplace as having consistently demonstrated the highest levels of knowledge, experience, integrity, and judgment.
Currently, there are only 20 CRE professionals in Arizona and less than 45 people worldwide who hold a CCIM, SIOR and CRE designation. Cheney is now part of that elite group of professionals. He is the second person on his high-achieving team, The Coppola-Cheney Group, to earn the three professional titles. Craig Coppola, Principal also carries these prestigious titles.
"In Andrew's 13-plus years working in our industry, he has consistently provided quality service, shown impeccable integrity and provided proven leadership," said Gerald Zaddack, Chair, Southwest Chapter, Counselors of Real Estate.
The Counselors of Real Estate, established in 1953 and headquartered in Chicago, Illinois, is an international professional organization whose members provide objective, reliable advice and counsel on matters aff ecting all forms of real property in the United States and abroad. Members include ranking representatives of real estate consulting, fi nancial, legal and accounting fi rms as well as leaders of Wall Street, government and academia.
For more information, ANDREW CHENEY, CCIM, SIOR, CRE can be reached at 602.954-3769, or acheney@leearizona.com