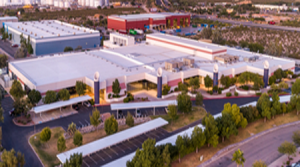 TUCSON, AZ (November 9, 2023) -- Carter Funds, based in Tampa, Florida, with a tenant in tow, acquired the data center at 3701 E Columbia Street in Tucson for $13 million ($97 PSF), and Carter said it is planning to spend a further $8 million in improvements to the property.
Aphorio Carter Fund Management Company, LLC, the critical infrastructure and data center division of Carter Funds, announced it had acquired the Tucson Tech Data Center.
The 133,450-square-foot building offers 40,790 square feet of raised floor and 6.56MW capacity. The building was originally built in 1989, with NortonLifeLock data center that occupied it beginning in 2004.
The data center is 100 percent leased to TECfusions, a recently founded data center development and operations entity and energy-efficient microgrid developer and operator, on a 15-year absolute triple net lease.
The facility sits on just over eight acres and has expansion capability within the existing structure for an additional ±15,000 square feet of raised floor area and 3.0 MW. The property has an on-site power substation expandable to 20MW per Tucson Electric Power.
"The Tucson Tech Data Center is a fantastic addition to our rapidly expanding portfolio due to its ideal location in the southwest and sustainability measures. The property's focus on sustainable data center construction, energy efficiency, and renewable power sources helps lead the data center industry toward sustainability," said John Regan, chief investment officer of Aphorio Carter.

"The demand for technology, digital storage, data transmission, and added capacity at data centers that support our digital-driven world continues to grow rapidly and we are excited about the opportunity and value this data center brings to our portfolio."
The acquisition is the fourth data center purchase for Aphorio Carter, which describes itself as an investment management company focused on acquiring digital and mission-critical infrastructure including data centers, switch sites, and technology-related real estate throughout the US. The company is part of the Carter Funds group, which previously included major data center investor Carter Validus.
In February the company acquired a data center in Bryan, Texas leased to Colorado firm Fibertown. Another Carter group company, AC DataCom Digital Infrastructure Investment, secured $43.8 million in financing earlier this year against a data center in Virginia, reportedly to fund further infrastructure investments.
Founded in 2023 and led by former QTS CTO Simon Tusha, TECfusions is redeveloping a data center in Clarksville, Virginia, upgrading the 234,000 square feet  site from 8MW to 18MW. Phase 1 of the project is set to launch in January 2024.
On its website, the company said it is upgrading the 10MW Tucson site into a 17MW facility, with future potential to develop a 100MW campus. The first phase of the relaunched facility is set to go live in March 2024.
The company said it also has four sites in Europe and two in Africa in its pipeline, with 'multiple' sites planned in Asia.
Tucson, located south of Arizona's major data center of Phoenix, currently has a small data center market. Companies including FirstTelecom/TW Telecom, Involta, Login Inc, and Simply Bits operate facilities in the city.
Don Rodie and Blaine Black of Cushman & Wakfield in Phoenix, and Sabrina Hughes, Bradford Rogers and Richard Ingwers with Cushman & Wakefield in California represented the seller.
To learn more, see RED Comp #10934.