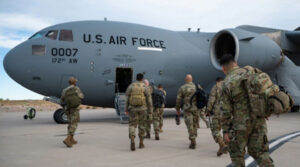 TUCSON, ARIZONA, March 17, 2023—The Arizona Air National Guard (ANG) bought 85 acres from Pima County for $1.85 million ($.50 PSF) Located at Country Club Road and Aerospace Parkway in Tucson, near Tucson International Airport.
The Arizona Air National Guard plans to use the property for a munition's storage area and other support uses for ANG.
As part of the effort to accommodate the AANG and Raytheon, Pima County sold the land for the same price they had paid when they purchased it from the City of Tucson two years earlier at the then-appraised value. The City of Tucson bought 297 acres from TAA at that time, also at the appraised value.
The Air National Guard's federal mission is to maintain well-trained, well-equipped units available for prompt mobilization during war and provide assistance during national emergencies (such as natural disasters or civil disturbances). During peacetime, the combat-ready units and support units are assigned to most Air Force major commands to carry out missions compatible with training, mobilization readiness, and humanitarian and contingency operations such as Operation Enduring Freedom in Afghanistan.
Arizona Air National Guard units are an Air Reserve Component (ARC) of the United States Air Force(USAF). Arizona ANG units are trained and equipped by the Air Force and are operationally gained by a Major Command of the USAF if federalized. In addition, the Arizona Air National Guard forces are assigned to Air Expeditionary Forces. Therefore, they are subject to deployment tasking orders along with their active duty and Air Force Reserve counterparts in their designated cycle deployment window.
Along with their federal reserve obligations, as state militia units, the Arizona Air National Guardsmen are subject to being activated by the governor's order to provide protection of life and property and preserve peace, order, and public safety. State missions include disaster relief in earthquakes, hurricanes, floods, and forest fires, search and rescue, protection of vital public services, and support for civil defense.