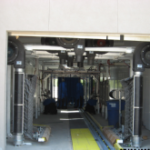 This article has been archived, please login for access or subscribe now for a free trial.
Arizona Auto Spa is a Tucson-based company founded in 2008. Through its extensive research, it is proud to be the first to bring the latest in cost-saving, automated car wash technology to Tucson.
The company currently owns and operates three other locations using this technology: 3150 E Grant Road at Country Club & Grant, 1435 W River Rd at River & La Cholla Blvd. and 6301 E 22nd Street at Wilmot and 22nd Street. A fourth location owned by the company was purchased operational and is a different type of car wash.
Its latest acquisition at 5075 S Midvale Park Road in Tucson is 1.33 acres of vacant land, located at the southeast corner of Midvale Park and Irvington, next to a Dollar General store. This site will be used to construct its fifth Auto Spa location in Tucson. The property was bank owned by City Bank of Texas when it sold[mepr-show rules="58038"]in an REO sale for $375,000 ($6.50 PSF) to Doover Management, LLC of Tucson. After 9-months in escrow, the property was successfully rezoned from C-1 to C-2 for this specific auto-use.
In a subsequent in-house transaction, the property transferred from Doover Management to SNS Investments of Ackron, OH for $452,000 as a joint venture.
We were told the new Auto Spa at Midvale Park and Irvington would be similar to the one at 22nd and Wilmot, which is a 3,840 sq. ft. building, built in 2010, on approximately 1.3 acres.
The company is always hiring. Applications can be found on its website at: https://www.arizonaautospa.com/employment/
Rob Tomlinson, Retail Specialist with Cushman & Wakefield / Picor Commercial Real Estate Services in Tucson represented the bank in these transactions. The buyer was self-represented.
Tomlinson can be reached at (520) 546-2757.[/mepr-show]
Please login in for additional sale information.
[ismember] The REO sale from City Bank of Texas to Doover Management sold on 4/30/203 for $375,000 in document #2013-1200920. It was this transaction that was in escrow for 9 months for rezoning. In a subsequent document #2013-1700750, Doover transferred property to SNS Investments of Ackron, OH for $452,000 on 6/19/2013 in an all cash transaction. Nathan Lawson (520) 247-4868, representing Arizona Auto Spa, asked not to use his name in the story.[/ismember]