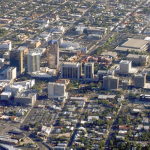 Globe Street Reports: Infrastructure Reigns at ULI's 10th Annual Trends Day
PHOENIX—Urban Land Institute Arizona Trends Day last week at The Phoenician in Scottsdale attracted 900 participants and covered a wide array of topics from "Reviving the Economy: Phoenix Open & Super Bowl," to "Expanding Horizons: Land and Residential Market View." The keynote speaker was sports writer Rick Reilly.
The panel, "Why Arizona? Employers and Site Selectors Perspectives," was moderated by Ioanna Morfessis, president and chief strategist for IO, Inc. Joining her as panelists were Lawrence Mehren, president, CEO and director of Tucson-based Accelerate Diagnostics; Amy Gerber, executive vice president, business and economic incentives for Jones Lang LaSalle; and Michael Trout, vice president operations, human resources, State Farm.
Morfessis began by asking each of the panelists why their companies chose Arizona.
"We had 12 or 13 communities vying for us," said Mehren. "Tucson had a great community development association and great job creation."
Trout stated, "We looked at 60 locations. As far as Tempe, we knew the town. There was the weather and the reliability of the infrastructure was unparalleled. Being close to ASU was important to get that great labor pool."
"The primary driver was the labor force, and the specific type of labor," said Gerber.
The conversation quickly turned to some of Arizona's lacks.
Mehren, who works in the biotech industry, said the state has a negative brand when it comes to attracting top level scientists. "When we pass certain laws, it confuses people. They see us as bigots and we need to rebrand." This comment was met with resounding agreement from the audience.
"There is a war for talent," said Gerber. "What should the state be concerned about for people they want to hire? There are third party drivers and one of them is education. Arizona communities are challenged with low high school and community college test scores. Education needs to be addressed, but this is not just Arizona by any means."
Mehren added, "We need to start with having an infrastructure that values education like we haven't seen in the past. We have to prime the pump somewhere."
"Let's not forget the middle income jobs," said Trout, "or you'll have a gap. Those jobs help bring people and families up. We need systems to educate everyone across the spectrum."
"One benefit of Arizona is that it is still a place where communities interact. Here we have a melting pot and we should build on that strength," said Mehren. "We should have the attitude, 'come to us and make your fortune, regardless of your race or your socio-economic status.'"
"We have to stay on top of our game now and in the future and find out what businesses need," said Gerber.
Mehren added, "We should define why we are better and make that clear."
Gerber stated, "You can't be everything to everybody. What are your strengths? Know them and go after them."
"This state has been fantastic," said Mehren. "My experience was great. This state executed really well. Going forward, the challenge is hiring and keeping talent in the state."
"We form long-term relationships at State Farm," said Trout. "We're excited about Tempe. It has that live, work, play vibe that people in IT and high tech want. And we want people to choose to use public transportation. Can Tempe live up to a Dallas in terms of public transportation? I don't know. But we believe the millennials will use the public transportation. We are working closely with ASU and Maricopa Community College to develop those 20 to 30-year employees that we're known for."
Morfessis asked what advice panelists would give recruiting municipalities.
"Be proactive about infrastructure," said Gerber. "Don't tell us what you plan on doing. And get your big companies into your schools to improve education."
Mehren stated, "Choose growth. Southern Arizona has chosen anti-growth in many respects. Thirty years ago, Phoenix and Tucson looked much the same. Look at them now. Without growth you have no tax base. You've got to invest in growth."
"Stay modern and attractive," said Trout. "The workforce drives what you do. Update your infrastructure."