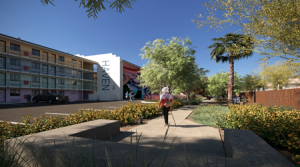 PHOENIX – Aug. 9, 2023 – The Arizona REALTORS® is a proud supporter of the Arizona Housing Fund (AZHF), a dedicated and sustainable funding source for nonprofit agencies that seeks to build and operate permanent supportive, low-income and working poor housing units. The Arizona REALTORS® has contributed more than $57,000 to the Arizona Housing Fund since its inception including a $15,000 donation this year.
Additionally, the goal of the Arizona REALTORS® is to give every buyer, seller, and real estate agent the opportunity to voluntarily donate $25 to the Arizona Housing Fund at close of escrow through the escrow donation program.
The Arizona Housing Fund recently awarded $500K in grants for projects to help provide homes to Arizona's most vulnerable individuals and families. The Arizona REALTORS®' backing of the Arizona Housing Fund ensures the construction of four additional housing projects across Arizona that are tailored to the community's expanding needs to alleviate homelessness by providing housing for more than 250 people. 
"The Arizona REALTORS® is proud to once again support the Arizona Housing Fund, which we have done each year since its founding in 2019," said 2023 Arizona REALTORS® president, Eric Gibbs. "With the help of individual REALTORS® and their clients, the Fund has distributed $1.35 million in grants to Arizona nonprofits to build permanent supportive housing and reduce homelessness in Phoenix, Glendale, Chino Valley, Page and Flagstaff."
The awardees of the recent grants are:
Central Arizona Shelter Services, which received a $100,000 grant for a 134-unit housing project that will provide transitional and emergency housing for homeless seniors in Phoenix.
Housing for Hope, which received a $150,000 grant for a 20-unit complex that will provide permanent supportive housing for the formerly homeless in Page.
Housing Solutions for Northern Arizona, which obtained a $150,000 grant for 44-units of transitional housing in Flagstaff.
Native American Connections, which secured a $100,000 grant for 48-units of permanent supportive housing for chronically homeless or disabled adults in Phoenix.
AZHF grants were voted upon and approved by the Arizona Housing Fund Advisory Committee, which includes the Arizona REALTORS® Of Counsel, Michelle Lind.
To learn more about the Arizona Housing Fund and to find out how REALTORS® can get involved, please visit aaronline.com/arizona-housing-fund.
PHOTO: CASS The Haven, Senior Housing Project