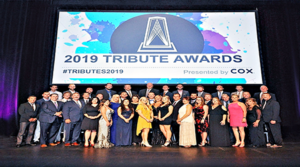 PHOENIX, ARIZONA – The Arizona Multihousing Association honored 16 individuals, four communities and four teams/communities Saturday night at the 27th Annual AMA/Cox Communications Tribute Awards.
More than 1,500 gathered at the Phoenix Convention Center South Building to honor the best in Arizona's apartment industry.
"This evening is about recognizing the true leaders in our industry," said Courtney LeVinus, AMA President and CEO. "Tonight, we celebrate you. These are the people who make our communities some of the greatest places to live in Arizona."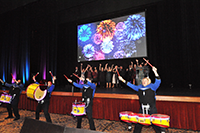 Arizona's apartment industry generates 22,000 jobs, $699 million in wages and $3.8 billion in economic impact each year as 37 percent of Arizona residents live in rental housing.
"I challenged everyone during the opening of the show to be unified as an industry, lift one another up, and celebrate together," said AMA Board Chairman John Carlson of Mark-Taylor Residential. "I'm proud to say Mark-Taylor led by example as 220 strong in attendance stood and cheered loudly for each and every award winner."
Master of ceremony for the evening was long-time Valley television personality Rick DeBruhl. The AMA received more than 655 nominations from 34 member companies. Volunteers donated hundreds of hours of their time to help judge.
2019 Tribute Awards winners
Appreciation for 27 years as title sponsor: Cox Communications
Industry Partner, Tucson: Amber Stevens, Apartment Guide
Industry Partner, Statewide: Chris Worrell, GPM Landscape
Volunteer of the Year, Tucson: Elizabeth Beaulieu, Quarterpenny Management
Volunteer of the Year, Statewide: Rodney Wilson, Greystar Real Estate Partners
Affordable Community of the Year: Valor on 8th, Gorman & Company, LLC
Renovated Community of the Year: Scottsdale 59, Baron Property Services, LLC
Developers Award for Best Community Design (Garden): Hampton East, Shelton Residential
Developers Award for Best Community Design (Mid/Low Rise): The Curve at Melrose, P.B. Bell Companies
Housekeeper, Reanie Roseberry: Scotia Group Management
Leasing Consultant, Jeana Turano: Baron Property Services, LLC
Assistant Manager, Bethany Flores: Weidner Apartment Homes
Service Technician, Isaac Sanchez: Alliance Residential Company, LLC
Service Supervisor 1-199 Units: Ryan Nutima, Baron Property Services, LLC
Service Supervisor 200+ Units: Richard Ryan, Greystar Real Estate Partners
Service Supervisor OTV: David Fierro, Scotia Group Management, LLC
Community Manager 1-199 Units: Kelsey Fortenberry, Shelton Residential
Community Manager 200+ Units: Ciera Moraga, Mark-Taylor Residential
Community Manager OTV: Shalom Curtis, HSL Asset Management
Best Team & Community prior 2000: Camden San Marcos, Camden Property Trust
Best Team & Community 2000-2010: San Lagos, Mark-Taylor Residential
Best Team & Community 2011-2018: Broadstone Waterfront, Alliance Residential Company, LLC
Best Team & Community OTV: Legacy at Dove Mountain, Shelton Residential
Regional Service Supervisor: Rodney Wilson, Greystar Real Estate Partners, LLC
Property Supervisor: Ashley Tran, Mark-Taylor Residential