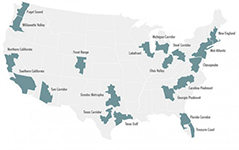 Arizona's Sun Corridor is considered an economic extension of Southern California when it comes to setting up logistics businesses. Five hours from the Los Angeles metro industrial areas, logistic businesses find total operating costs are as much as 25% less in the Sun Corridor than in California.
It's one of 20 megapolitan areas evolving across the U.S.—and this one has a lot of muscle when it comes to moving goods from Pacific ports into the heartland.
The fact comes in a new report from CBRE comparing east and west coast ports. With no ocean frontage, it's a challenge seeing the Sun Corridor megapolitan area as a port. But the area from Tucson to Phoenix is positioned to capture Asian-based shipments.
Megapolitan areas are clusters of metropolitan statistical areas (MSA) that have grown together over the years. The Sun Corridor, which is the only megapolitan area in the Intermountain West, encompasses Arizona from Prescott to Nogales, taking in Yavapai, Maricopa, Pinal, Pima and Santa Cruz counties.
The business-friendly environment and lower real estate costs speed the process from "sold" sign to ribbon cutting. Permitting in the megapolitan area typically takes less than 90 days, compared with six months to more than a year in California. Phoenix offers 24-hour permitting for properly zoned sites.
"Distribution and fulfillment users need a real estate footprint that allows them to move freight through the U.S. transportation network as fast as economically feasible," said Scott Marshall, Executive Managing Director, Industrial Services, Americas, CBRE. "Future location decisions will largely be driven based on population growth (and) ports with the infrastructure and transportation links."
Arizona sits on the connecting point between the new deep-water Mexican port under construction in Guaymas, Sonora, and North America's largest cargo port in Long Beach, California. Because of a clogged transportation network in the Los Angeles area, it's faster for companies to move the cargo from Long Beach to Arizona and then distribute it throughout the West, Mountain and Midwest regions of the U.S.
This is one reason Arizona has foreign trade zones—allowing cargo to move more rapidly from port to distribution centers.
The development of the Loop 202 South Mountain Freeway, Interstate 11 and the CanaMex highway are all long-range components of building the Sun Corridor's logistic strengths.
For complete story see https://azbex.com/arizona-muscles-its-logistics-assets-with-sun-corridor-megapolitan-area/