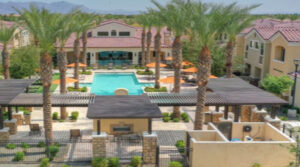 Mesa, Ariz. (February 21, 2022) –Bella Victoria, luxury apartment homes in Mesa, is hoping to attract new Tesla, Ford and Rivian owners with powerful, Level 2 electric vehicle (EV) charging in every garage.
The popularity of EVs is on the rise with Kelley Blue Book reporting more than 800,000 new vehicles sold in the U.S. in 2022 – a 65% increase from the previous year.  And with the new federal tax credits and incentives, sales are expected to nearly double in 2023. As more and more consumers choose these ecofriendly and fun-to-drive cars, the charging infrastructure, especially in "for-rent" communities, will have to keep pace with the growth.
Bella Victoria saw the need for quick, private charging as a way to stay ahead of competitors in the market. However, unlike other multifamily properties in the Valley, Bella Victoria installed EV plug-ins directly inside each residents' garage. These special outlets are rated at 50 amps and provide much quicker "Level 2" charging, speeds typically found only at community stations.
One of the biggest problems when charging in multifamily properties is they typically have just 3-5 stations that are almost always occupied and are often located in the back of the property, away from where people live. Also, residents are generally required to pay higher fees to access these services and sometimes have to wait hours before their cars are fully charged.
Bella Victoria was an early adopter of EV charging. In addition to doing their part to help the environment, residents will dramatically reduce their fuel costs. This is especially meaningful as gas prices come off all-time highs. For example, to fully charge a Tesla Model 3 or Model Y costs as little as $6 in electricity. This is a huge savings when compared to traditional, gas cars.
"Our residents really like having their own, private charger," said Hudd Hassell, one of the property owners of Bella Victoria. "With fuel prices likely to climb again, more and more people are opting for energy-efficient EV models and we're proud to support this transitional lifestyle."
Property manager, MEB Management Services, recently formed the MEB Sustainability Committee in hopes of making more of their multifamily properties energy and ecofriendly. One of the goals of this committee is to make environmentalism easier and cheaper so residents and property owners will be more likely to choose sustainable living. Inconveniences coming from a lack of charging infrastructure or limited community charging stations can often deter people from purchasing the more environmentally conscious EV.
"We know that a large portion of emissions come from manufactured buildings so we created the MEB Sustainability Committee to help reduce our portion and support local apartment complexes in doing the same," said Debbie Holder, Vice President of Operations at MEB Management Services. "Bella Victoria is a perfect example of sustainability in multifamily housing though their EV capabilities and other green initiatives."
Bella Victoria, located at 1350 S Ellsworth Rd in the heart of East Mesa, has two and three-bedroom floor plans, community wide Wi-Fi, exercise facilities, two resort-style swimming pools, putting greens and many more unique amenities. Bella Victoria also has cutting edge home technology in addition to the EV charging stations including USB ports throughout the home, NEST thermostats, Pre-wiring for 4K and HDTV, Minka ceiling fans with LED light kits, smart water heaters with endless hot water and high-speed fiber optic wiring.
MEB Management Services is also managing the new sister property to Bella Victoria which is in construction phases. Bella Encanta, located at 9745 E Hampton Ave in Mesa, will be ready for leasing in March and will have the same sustainable practices as Bella Victoria, including private EV charging outlets in every garage.
To learn more visit bellavictoria.com or bellaencanta.com