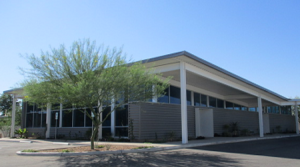 Tucson, AZ. – August 9, 2023, – Big Brothers Big Sisters of Southern Arizona (BBBS's) has a new home for youth mentoring. The nonprofit organization has purchased two buildings on 1.07 acres located at 2552 N. Alvernon Way to create a more accessible, inviting, and functional space for youth and their mentors.
The purchase follows the sale of BBBS's downtown office at 160 E. Alameda, which was finalized earlier this month. BBBS's new facility will feature a 5,700 square foot Mentoring Activity Center to provide a safe, fun, and FREE space for youth (Littles) and adult mentors (Bigs) to meet, connect and develop their relationships.
The purchase price for the two buildings was $2,120,000 ($189.49 PSF).
"In our pursuit to empower the potential of every young person, we are thrilled to announce our new home at 2552 N. Alvernon Way. This expansion represents Big Brothers Big Sisters of Southern Arizona's unwavering commitment to creating a nurturing environment where youth and mentors can forge lifechanging connections. With this new space, we're not just building a physical facility; we're building a bold path to a big future for our community," said Marie Logan, CEO of Big Brothers Big Sisters of Southern Arizona.
The space will feature areas for cooking, crafting, playing games, homework and other simple things that Matches enjoy doing together. The new facility will also enable BBBS to offer programming to youth waiting to be matched with their own Big, as well as more support for parents and guardians.
BBBS has launched a $3.9M capital campaign to fund the new project including the purchase and renovation of the property, as well as funding for expanding programming once operating in the new  space. Over $2M has been committed so far, including proceeds from the sale of the downtown property  and generous donations from the Connie Hillman Foundation, Bert W. Martin Foundation, the Super Bowl Legacy Foundation, and every one of the current BBBS board Members.
Michael Franks originally built the building at 2552 N Alvernon for Seaver Franks Architects, and it has been their home since its construction. Seaver Franks will continue occupying a portion of the building via leaseback. BBBS moved to central Tucson to serve their "Bigs and Littles" better and offer community space more conducive to Big and Little bonding activities.
Isaac Figueroa with Larsen Baker represented BBBS, in both the sale and the purchase. Dean Cotlow with Cotlow Company represented the seller, Alvernon Investors Group I, LLC, et al., an affiliate of Seavers Franks Architects, in the new acquisition.
For additional information, Figueroa can be reached at 520.296.0200 ext 128, and Cotlow should be contacted at 520.881.8180.
To learn more, see RED Comp #10817.