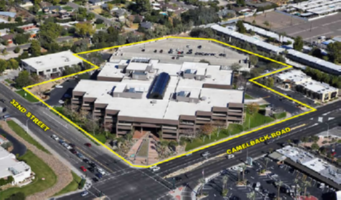 PHOENIX, AZ -- Cushman & Wakefield of Arizona has been selected to handle leasing of the prestigious Biltmore Commerce Center, a Class A office complex at 3200 East Camelback Road in Phoenix.
The property, which was recently purchased by DPC Development Company of Denver, will undergo a significant modernization and re-positioning in the Camelback Corridor.
The mid-rise office building, which contains approximately 258,348 square-feet of space, was constructed in the mid-1980s. The mid-rise building is situated on approximately 7.53 acres of land that includes a six-level parking structure. Anchor tenants at the property include HDR, North American Title and Accenture.
DPC Development Company is a value-add investor that is known for presenting their buildings in a first class manner and for attracting some of the most prestigious tenants. The company has owned other properties in Arizona and will soon embark on upgrading this asset.
Biltmore Commerce Center's interior is designed around a sizable atrium space with a large water feature. "The owner has hired Oz Architecture, a very dynamic and creative firm based in Denver, to create a tenant-focused interior that addresses the needs and desires of today's office users," says Jerry Noble, senior director with Cushman & Wakefield. "The new ground floor will feature abundant, modern seating areas and Wifi access for meetings and individual work. A new, re-designed water feature and interior landscaping will be included in the design. The owner also is considering the addition of a coffee or restaurant user on the ground floor. This owner is committed to more than a beautification effort and is dedicated to creating a business environment that meets the current desires of tenants and their employees."
DPC Development Company also has undertaken a re-landscaping effort on the exterior at the corner of 32nd Street and Camelback Road. Simpler plantings and extensive lighting are being installed to improve the curb appeal of the building during both day and night.
"We were proud to acquire this signature asset on the Camelback Corridor," said Justin Lutgen of DPC Development. "We have been looking for more opportunities in the Arizona marketplace and this asset provides great upside potential. Biltmore Commerce Center's phenomenal location and 70 percent occupancy offers us the ability to improve the value of the property and lease the remaining space as the market improves." Biltmore Commerce Center is one of the few buildings in the Camelback Corridor that offers 45,000+ square feet of contiguous space for a large user.
Jerry Noble, Pat Devine and Greg Mayer of Cushman & Wakefield will serve as exclusive leasing agents for Biltmore Commerce Center.
The Cushman & Wakefield team of Noble, Devine and Mayer can be reached at (602) 253-7900.